Cure, Shoxx, purpleSKY for Sale
alice nine., The GazettE, LM.C, Kagerou, Megamasso, Kagrra,
Information
-Paypal
only
-Prices include shipping and tracking within the US; combined shipping discounts available
-Posters are not included, including cut-out pages in purpleSKY
-Translations come with the alice nine. and The GazettE magazines
-All are in great condition
-Feedback available on
loligoth_dbs
, my personal journal, and eBay user phenphenny
All are $10, including shipping and tracking
That's only $7 for the actual magazine!
First two orders include a free SEX POT ReVeNGe sticker :]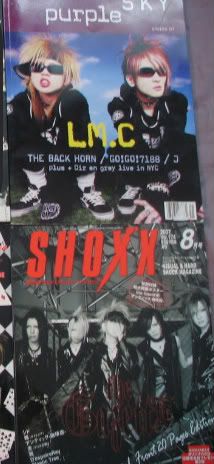 Feel free to ask what artists are in issues, what months they are, etc.