All prices are in USD and shipped from Kansas
I accept paypal and concealed cash at the buyers risk.
Hopefully you can help me clear my closet a bit!
First is a pair of black vinyl boots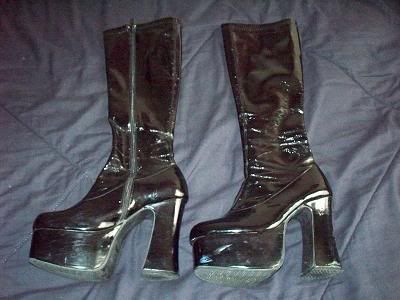 They are just below knee length and well used.
I've had these for many years and worn them a lot
Size: 7.5-8
Price: $13 includes shipping
Next is the same exact style of boots but in sparkling silver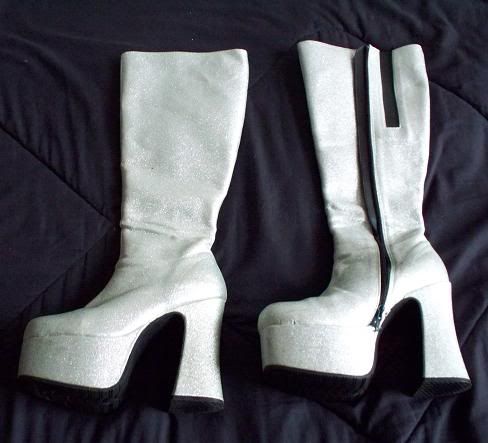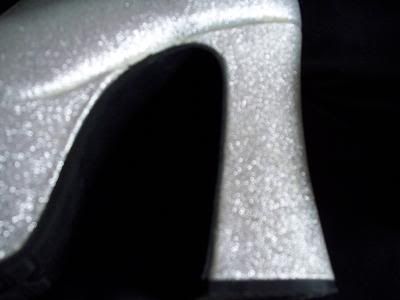 This photo is a true representation of how sparkly they are.
I've had these for many years as well but haven't worn them nearly as much as the black boots.
They do have a few scuffs but nothing too major.
There is one small area where you can see some glue from when the shoes were made and it has turned a strange color
Size: 6.5-7
Price: $20 + $5 shipping in the US
Last but not least is some new cute shoes with bows
You can see the two minor scuffs lit up with flash here.
I purchased them new but they were too large for me so I only wore them once.
Size: 9
Price: $20 + $3 shipping in the US

SOLD
Another $5 would be added for international shipping on any of the shoes.
Please make an offer if you think my prices are unreasonable and please feel free to ask any questions.
Thanks for looking!
Cross posted many other places.