Added recently:
DEEN - Yume no Aruyouni single (Tales of Symphonia)
Death Note cosplay items (Mello, specifically)
Dir en grey t-shirt
Psycho le Cemu t-shirt
Dir en grey 5 UGLY KINGDOM DVD
Cure, Duet and Potato magazines
Cinnamaroll plush
Domokun shirt
Fruits-style skirt
Punk studded skirt
Lolita minihat
Saint Seiya poster
Beautiful blonde wig
Free People brand t-shirt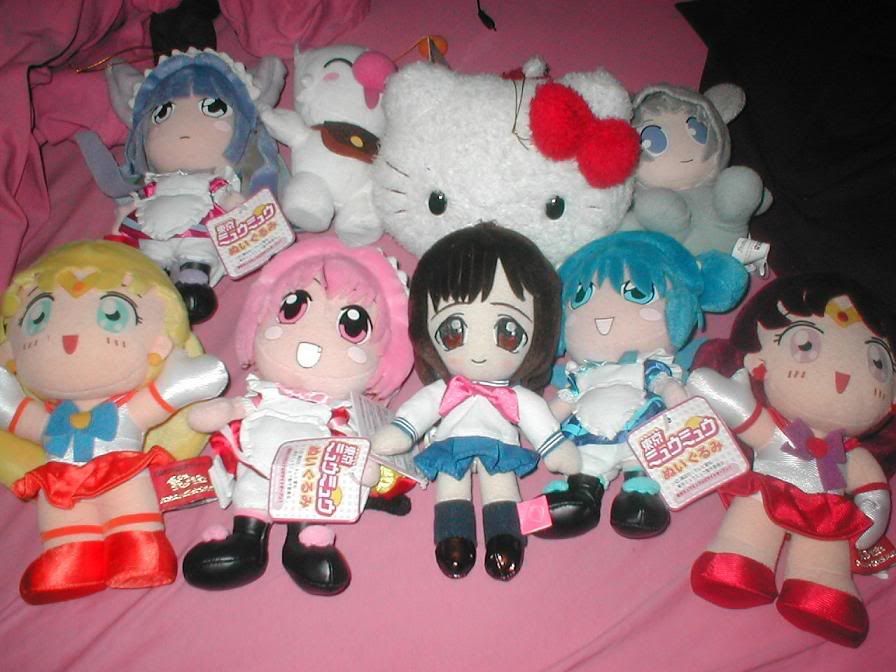 ZAKURO, MINT, YUKI AND HELLO KITTY SOLD.:
Sailor Venus - $25 shipped
Sailor Mars - $25 shipped
(Buy both for $40 shipped)
Ichigo - $18 shipped
Ichigo 100% girl - $7 shipped
Mog - $15 shipped


Pink bloodless Gloomy Bear - $7 shipped ON HOLD
Pandatone Gloomy Bear SOLD
Big Gloomy Bear with sweatshirt - $16 shipped (back detail)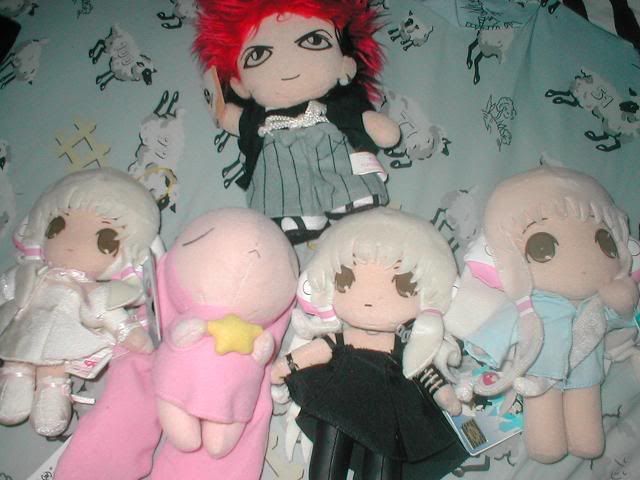 Atashi - $7 shipped
white Chii - $18 shipped
Freya (black Chii) - $18 shipped
Chii in nightshirt - $18 shipped
Christmas hide SOLD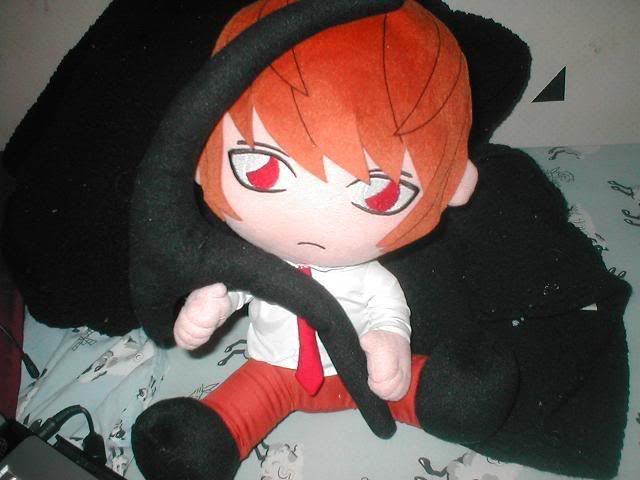 BIG Light - $21 shipped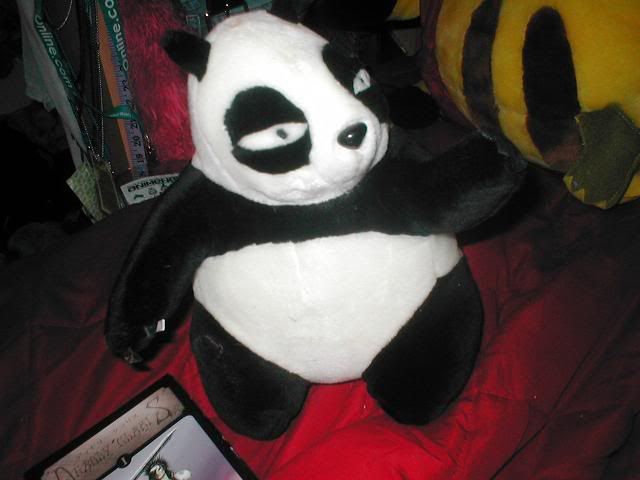 Ranma 1/2 Genma (sign broken but VERY RARE) - $25 shipped


Kero-chan - $6 shipped
Kyo - $8 shipped
Hello Kitty zodiac leo - $7 shipped
Di Gi Charat "What is that thing?" bear in the box - $18 shipped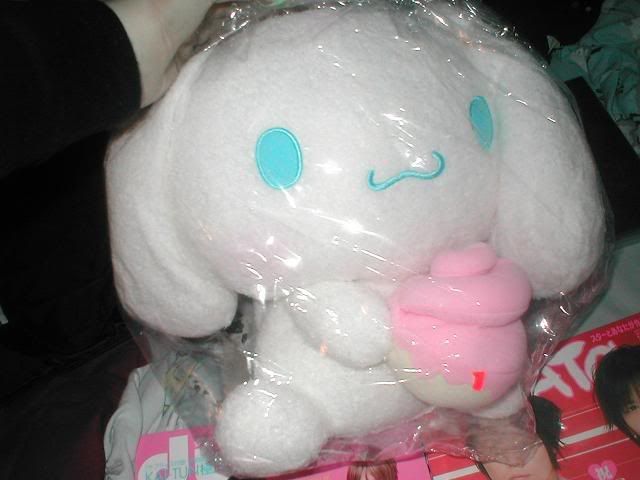 Large Cinnamaroll plush - $25 shipped

Jrock/Jpop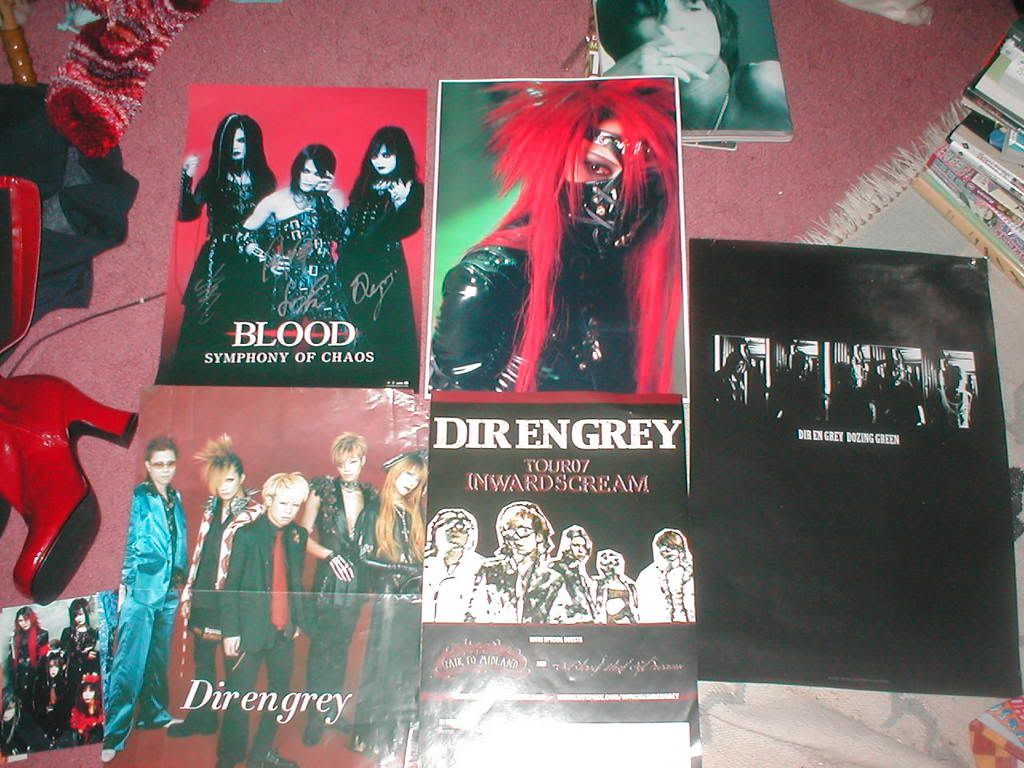 (Die and Kisou posters sold)
Blood autographed poster, never hung SOLD
BLOOD BEST COLLECTION 2002-2007 CD, never listened to ($12 shipped)
Dir en grey AGITATED SCREAMS OF MAGGOTS american single ($6 shipped)
Dir en grey DOZING GREEN first press single ($15 shipped, comes with sticker)
Dir en grey DOZING GREEN promo poster, hung with tape but trimmed off neatly ($9 shipped)
Dir en grey INWARD SCREAM TOUR promotional poster ($8 shipped for unused [I HAVE 11 OF THESE. 6 have been taped up, and one has a bent corner - $5 shipped for those ones.]) One sold
Dir en grey WITHERING TO DEATH CD/DVD signed by all 5 members ($20 shipped, picture) ON HOLD
Dir en grey 5 UGLY KINGDOM official DVD ($40 shipped)
Merry NU-CHEMIC RHETORIC official DVD, unopened ($30 shipped)
DEEN - Yume no Aruyouni single (Tales of Symphonia), unopened ($11 shipped)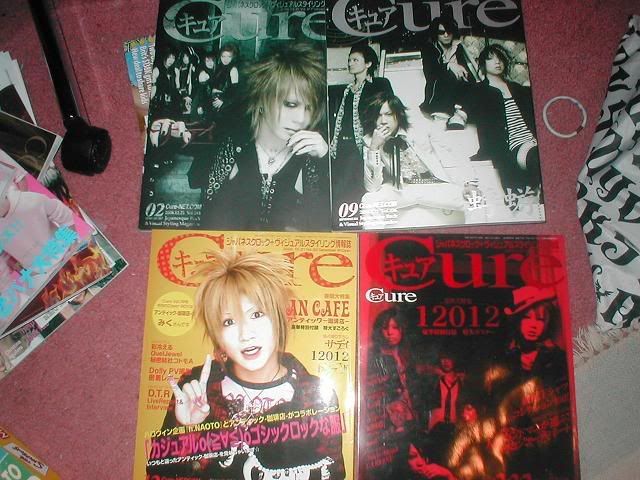 Cure magazines, all with posters. Sadie, Kagerou, AnCafe and 12012 covers ($15 shipped EACH)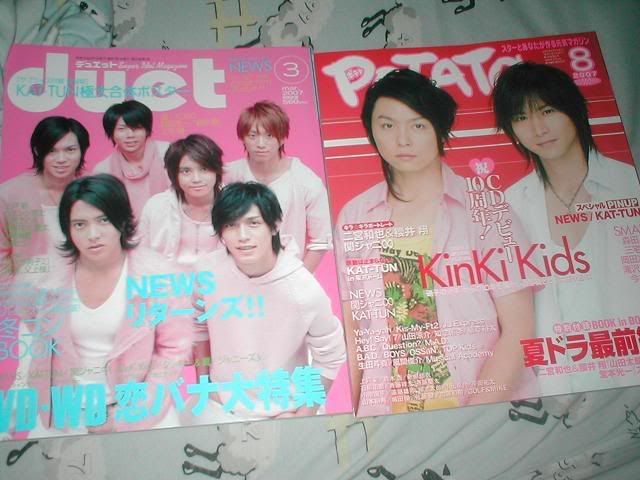 Duet and Potato magazines. No posters :( ($13 shipped EACH)

Clothes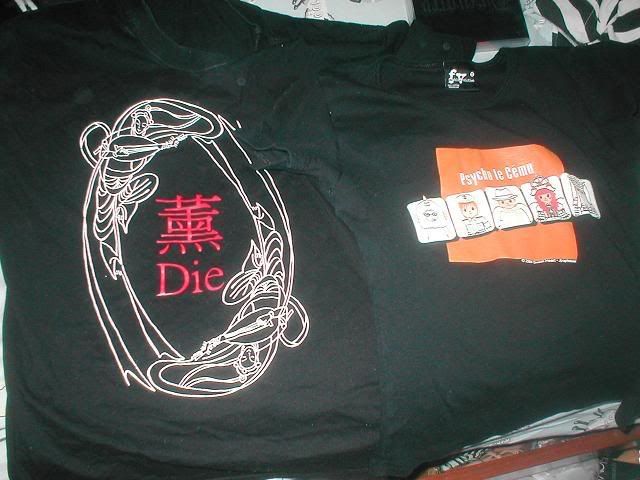 Dir en grey Die Kaoru shirt, mens x-small ($10 shipped, picture of back)
Psycho le Cemu shirt, womens small ($11 shipped)
FREE PEOPLE panda tie-dyed shirt, womens medium, nwt ($40 shipped, picture)
Yu-Gi-Oh the Movie Kaiba and Yugi shirt, boys medium ($7 shipped...unless you don't mind a belly shirt, I'd recommend this shirt to someone under 5'5", preferably shorter, picture)
Punk skirt, missing one strap ($15 shipped, picture)
Domo-Kun shirt, womens large ($15 shipped, picture)
VERY VERY short polkadot and gingham blue and pink skirt, ONE OF A KIND, elastic waistband size small to large ($15 shipped, picture)

English manga - $7 shipped each, unless otherwise noted:
Angel Sanctuary 1 ($6 shipped)
Battle Royale 1-3
Berserk 1-6 ($9 shipped each, $45 shipped together)
Bobobo-Bo Bo-Bobobo
Cromartie High 1
Demon Diary 1 (shonen-ai?, $5 shipped)
FAKE 1, 3, 4, 5, 6, 7 (yaoi)
Galaxy Angel Party 2
Gravitation 2
GTO The Early Years: Shonan Junai Gumi 1-3 ($9 shipped each, $25 shipped together)
Il Gatto Sul G 1 (yaoi, $9 shipped)
J-Boy 1 (hard yaoi, $10 shipped)
Knights of the Zodiac 1-3
Loveless 1-6 (shonen-ai)
Museum of Terror 1 ($10 shipped)
Ohhikoshi
Sorcerer Hunters 3, 8
Twilight of the Dark Master ($9 shipped)
The Wallflower 1
Yu-Gi-Oh 6-7

Japanese manga - $5 shipped each, unless otherwise noted
FAKE 1-3 (yaoi, $10 shipped together)
GUSH telephone book manga magazine November 2006 ($8 shipped)
BRONZE Zetsuai since 1989 (yaoi)
Zetsuai 1989 1 (yaoi)

Books
Japanese Teenage Girl Inferno ($9 shipped)
Only the Ring Finger Knows novel 1 (yaoi, $9 shipped)
Spiral by Koji Suzuki softcover ($9 shipped)
Spiral by Koji Suzuki hardcover ($15 shipped)

DVDs - $5 shipped
Pirates of the Caribbean
Yu-Gi-Oh The Movie

Anime merchandise
Saint Seiya poster ($15 shipped, picture)

Cosplay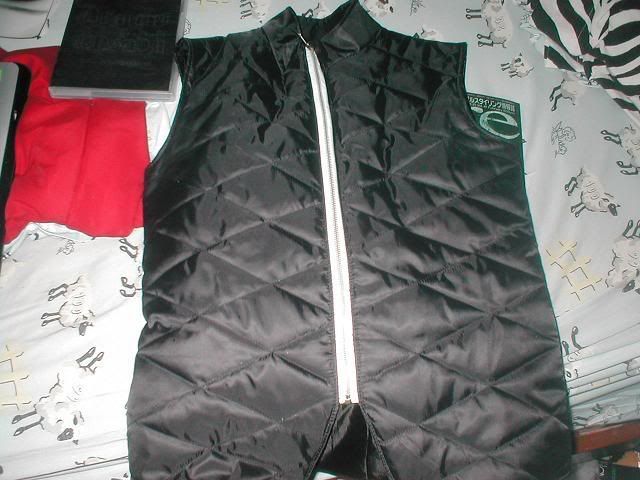 Mello cosplay top ($35 shipped)
Mello wig [actually, it was some character from Gundam Seed but I used it for Mello] ($30 shipped, picture 1, picture for clarification of color)


Gorgeous lightly curled blonde/brown wig...originally bought for $55 ($30 shipped)
Black lolita minihat ($13 shipped, picture)
Naruto sound village headband (picture) ON HOLD
Fuzzy pink kitty hat ($15 shipped, picture) SOLD :D

Anime CDs
Yu-Gi-Oh Sound Duel 3 ($10 shipped)

All prices negotiable! If you want (more) pictures, I'll take them.

Shipping included is shipping to USA, international shipping costs more.
Paypal greatly preferred (but please no credit/debit card transfers - I only have a personal account), concealed cash accepted at your own risk.