Feedback
:
loligoth_dbs
and on my
sale journal
Price in
USD
.
Payment by
Paypal
(Balance, Instant Transfer or eCheck prefered. Credit/debit card paypal payment, please add 4%).
Shipping calculated separately
(shipped from Canada).
Please specify postal code if within Canada, state (not zip code please) if from US, or country.
I will give the buyer all available options but if you request a non-insured shipping method, I will not be held responsible for the item once it leaves my hands.
I'm willing to negotiate :)


beauty:beast bag
Like NEW 9.8/10 ~ carefully carried around only once
dimension: 15" x 14"
main pocket: 13.5" x 10" x 3.25"
Retail for
¥30,450
Price: $200


Additional pictures on their website

Putumayo replica
USED 6/10
bust: 32" max
shoulder to shoulder: 13"
waist: 28"
length: 21.5"
Price: $25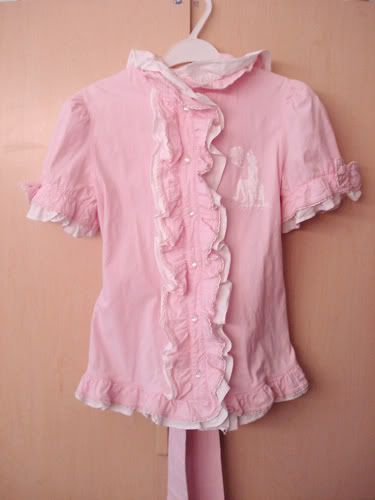 back with hood and waist bow
breast print close-up
hood with MarJour logo

Winged heart necklace
2.4 cm x 3.8 cm
NEW
Price: $15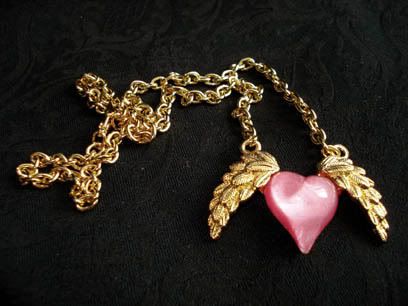 Koji Kuga white platform boots

NEW 10/10
size: 27 cm
height: 4.25" under the heel, 2.9" at the lowest part

Price: $200 includes shipping to US and within Canada
front view
original price
as seen in Fruits

No-brand (Hudson) jacket imported from Japan
NEW with tag 10/10
bust: 33"
sleeves length: 22.5"
two working pockets
Price: $25
sleeves + extra buttons close-up

No-brand (Skin) blouse
New 10/10 (just a bit wrinkled)
bust: 36"
length: 22"
waist can be adjusted with lace-up on the sides
opened at the front under the collar
Price: $20
breast detail
collar detail
sleeves

BPN zipper skirt
USED 9/10
waist: 25"
front length: 22"
back length: 30"
Price: $40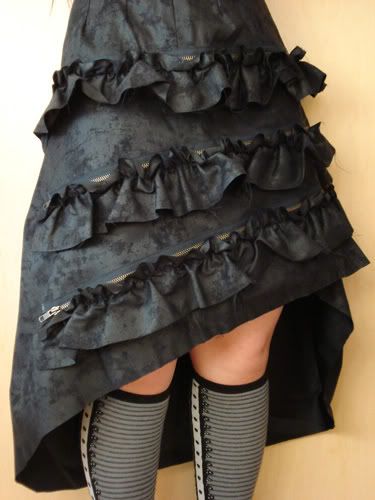 fabric close-up


h.NAOTO jacket
NEW 10/10
bust: 36" max
waist: 32"
length: 22"
sleeves length: 24.5"
shoulder to shoulder: 13".5
mesh overlayer with rose embroideries
Price: $100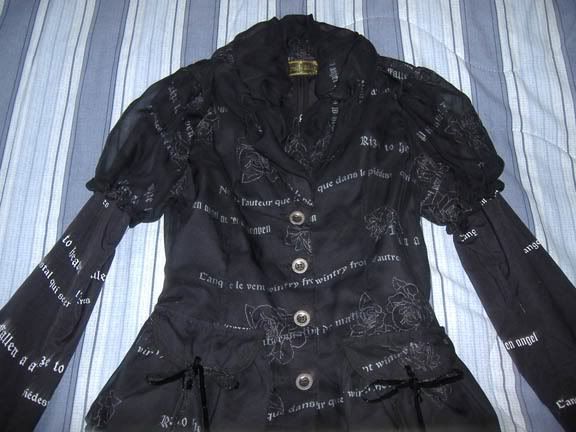 collar close-up
sleeves close-up
pocket close-up




h.NAOTO bunny bag
USED 9/10
14" from toe to top of hat
chain length: ~43 inches
zipper pocket in the back, velcro pocket at the front
Price: $65


back
face close-up




h.NAOTO evil wings bag
USED 9/10
bag opening: 11" (laid flat)
height: 9"
wings: ~8" x 8 "
has a mesh overlayer and small interior pocket
Price: $100


back with pocket
tag


Thank you for looking!