Paypal is preferred, but I also take checks, Money orders and concealed cash (at your own risk)
My paypal is Wiccanchild52@yahoo.com

Bidding ends on Sunday Midnight EST
All posters will be shipped for 3$ (except wallscrolls)




Bidding starts at 15$
Its shounen ai & gag
JuubeixKazuki shounen ai- bidding starts at 15$
KomuixAllen NC17 Hard yaoi
32 pages
bidding starts at 13$
CrossxKomui NC17 34 pages
bidding starts at 13$
RebornxLambo NC17 HARD YAOI
106 pages
(a VERY good doujin <3 ;__; Why must I be poor?)
Bidding starts at 29$
And lastly my fav~!
ItachixKisame by RAUHREIF (well technically its KisaIta cuz ita is on the bottom but he initiates it...so ..w/e XD)
DEFINATELY NC17
( I dont wanna get rid of this doujin since itakisa is so rare ;-; but i need monies :( )
Bidding starts as 18$
Published Year : 2005. About 7 x 10 inches.
30 PAGES NC17 YAOI. KISAME X ITACHI.
CIRCLE : RAUHREIF.
Japanese text. MANGA STYLE.
All Black and White pages.
Sample Pages:
More new stuff here:
Saiyuki animation book- 8$
Saiyuki animation book - 13$ (you can also get both for 20$ shipped)
(Gojyos pants are unbuttoned o_o (atleast now i know what kind of underwear he wears..xD)
OMG i <3 this pic GojyoxHakkai <3...lol)
A pullout poster of all 4 of the guys
Pullout of Sanzo
Lunar silver star story- 53$ (this is definately one of the better games out there.. I LOOVEEE this game)
The standard 2 Disc Game Version by Working Designs, not the complete Box Set. Return to the world of LUNAR, in the completely reworked 32-bit version of the RPG classic. Journey back to a place where dragons yet live, and magic is valued above all else. Join Alex, the young adventurer, as he begins a quest with his friends to save their land from the crushing advance of the Magic Emperor.
Chrono cross- 15$
Final fantasy 8 - 17$
Final Fantasy IX - 17$ on hold
Final Fantasy 1 & Final Fantasy 2 Bundle - 20$ shipped


missing mini guide/artbook (still has the box, game and double sided poster) -25$
POTC 3- 8$
Magic users club Volume 3 - 5$
The alien menace draws near, searching for the source of magic on Earth. Minawa, the reporter, suspects this, and enlists Akane's help. She attempts a very dangerous spell at his request, contacting the alien mind itself! Will she finally uncover the invader's true motives, or will the power of the alien mind destroy her?
Memoire + Voyage Sans Retour CD - 21$ shipped
F4
Fantasy Live Concert World Tour at Hong Kong Coliseum - 24$
Naruto lunchbox - 14$
sample page of how much it can fit (IMAGE NOT MINE (tbh alot of these aren't.. im too lazy to take pics xD)
Naruto Itachi 7" UFO weasel Plush - 18$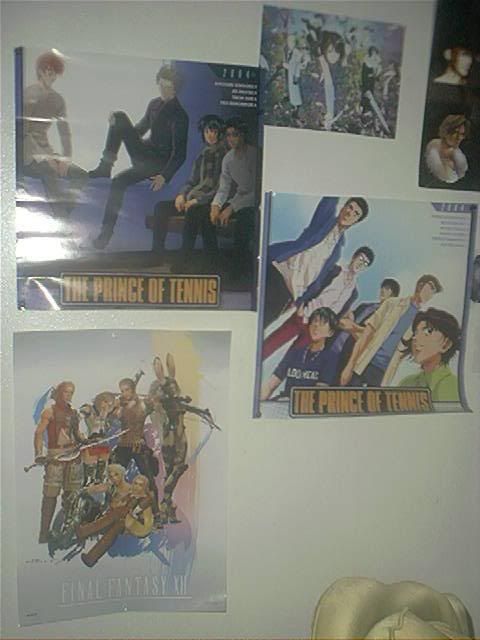 3$ each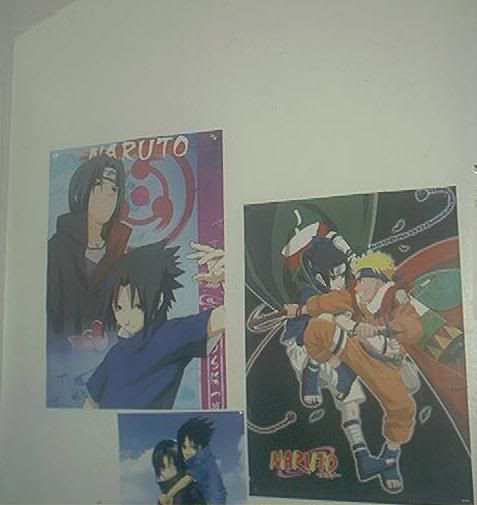 7$
(narusasu one sold)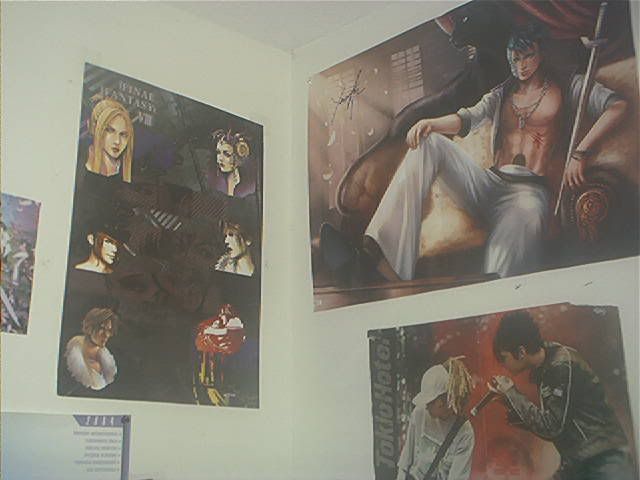 FF8 poster- 3$
(grimmjow poster NOT for sale (i changed my mind, I like it too much <3 (bought it at yaoi-con for 25$...lol)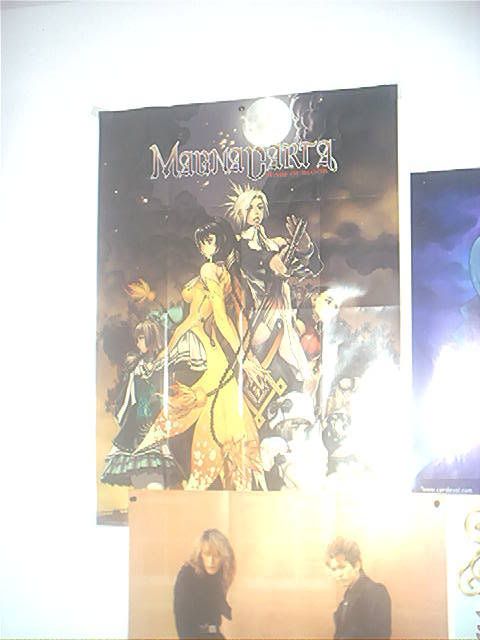 Magna carta poster (its double sided)- 9$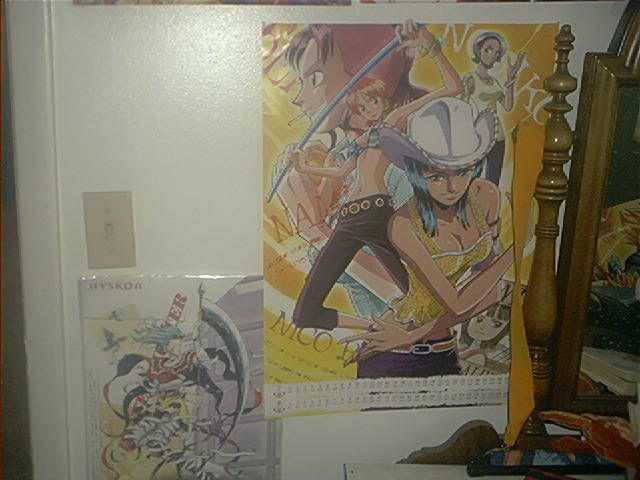 Nami & Robin calander pullout poster - 3$
Hisoka Poster (kurapica on the other side) - 3$ (its laminated)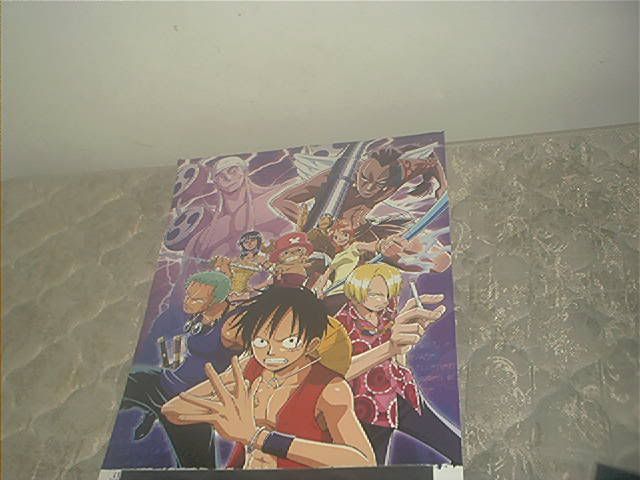 One Piece pull out calender poster- 3$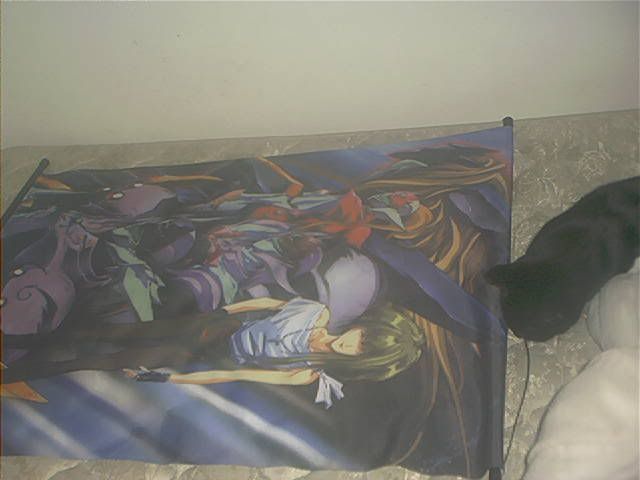 Tekkaman Blade 2 Dead End wallscroll (cat not for sale xD) - 8$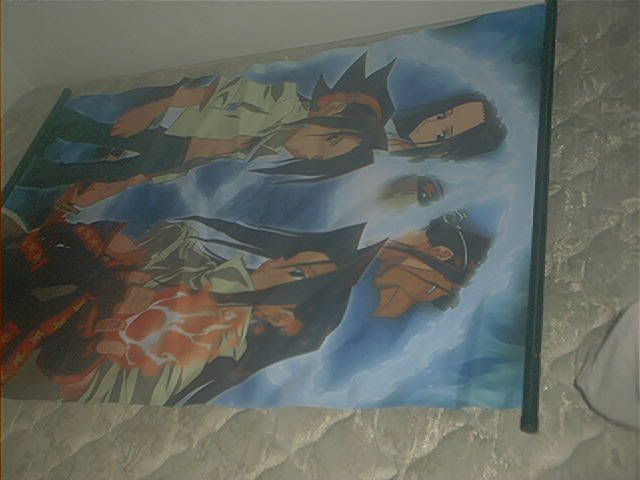 Shaman King Hao & Yoh wallscroll - 9$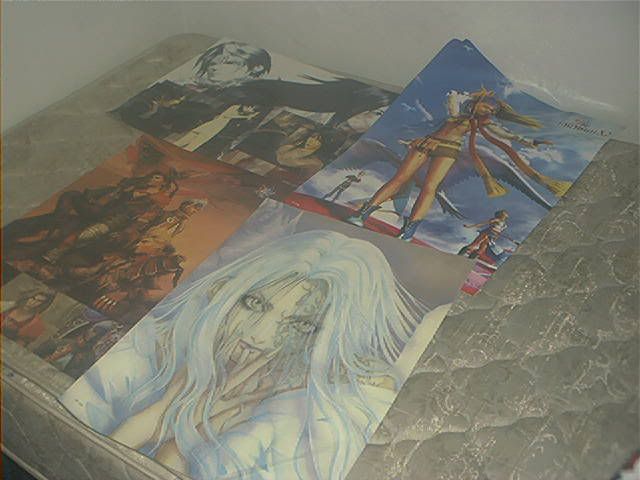 3$ each (the rikku one is 2$ since its bent)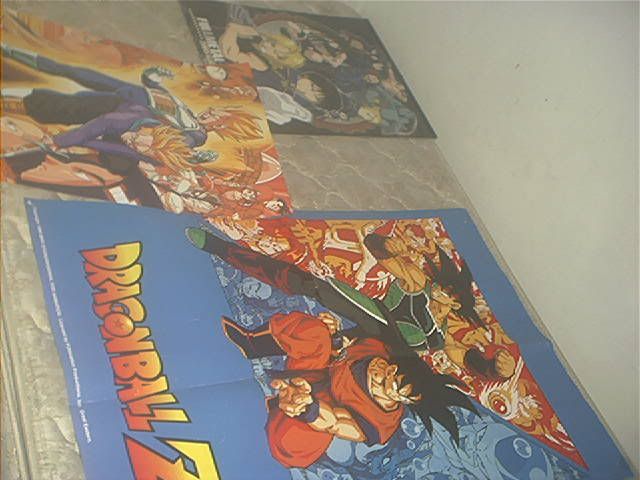 Dragonball z Bardock n Goku poster - 5$
DBZ vegeta n trunks poster - 3$
FMA calander 2005 (has reallllly cute pics u can use as posters)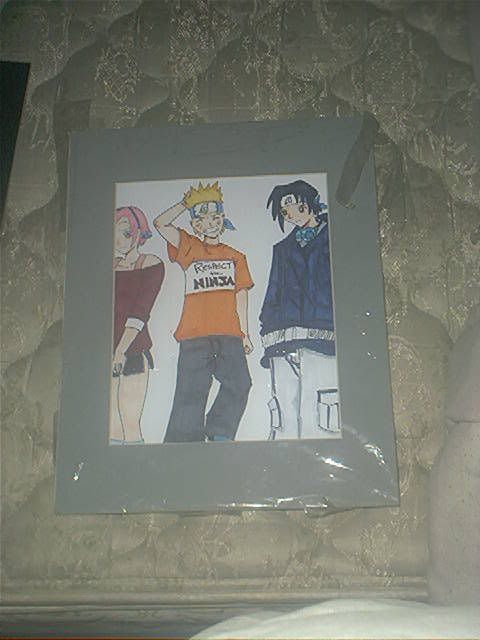 Naruto picture w/frame (bought at metro-con art auction)- 3$ (bought for 7$)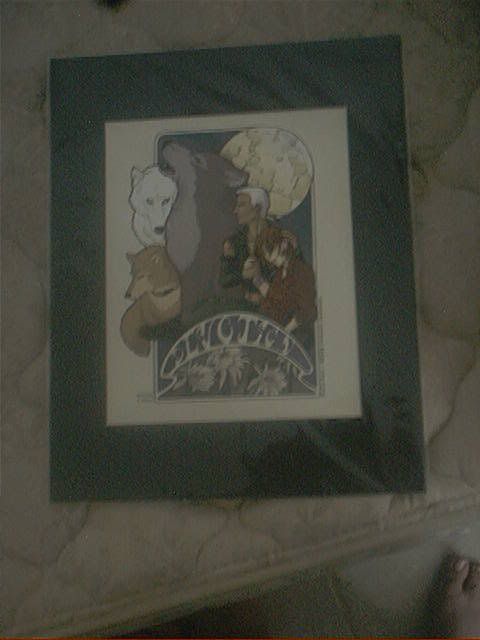 Wolfs Rain TsumexToboe picure w/frame - 6$ (bought for 15$)
(bought at metro-con art auction)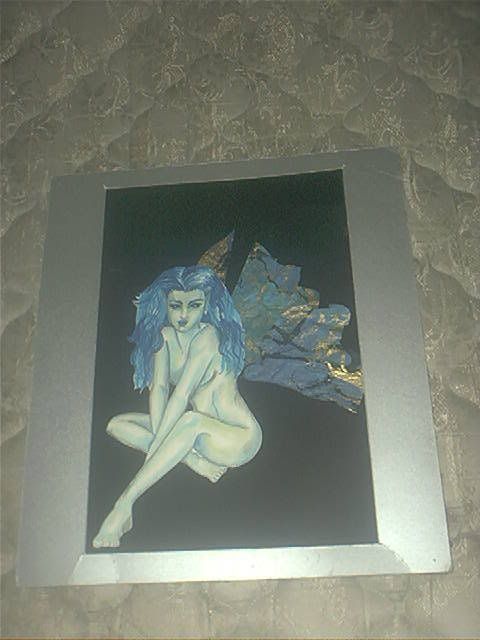 Fairy w/3D paper mache wings - 7$
(bought at metrocon art auction for 18$)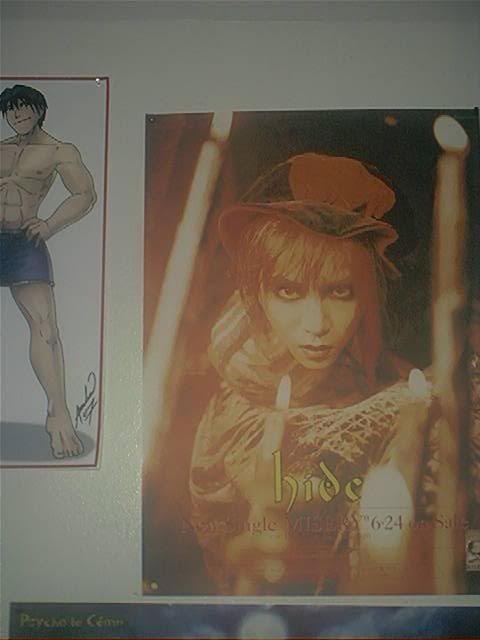 rare hide Poster - 14$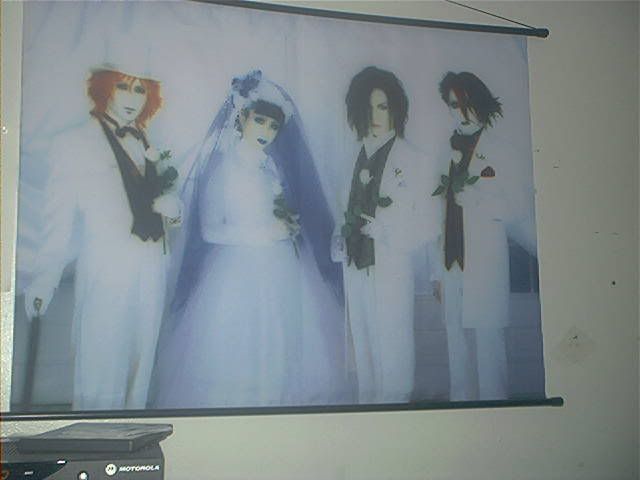 Malice Mizer hard to find Wallscroll - 18$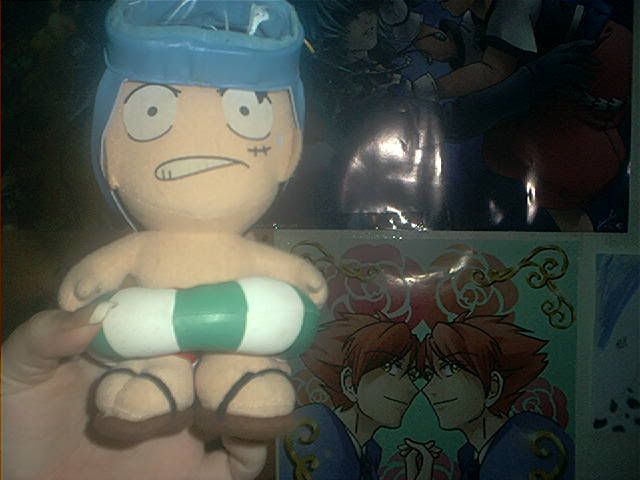 Luffy from One Piece innertube plushie - 7$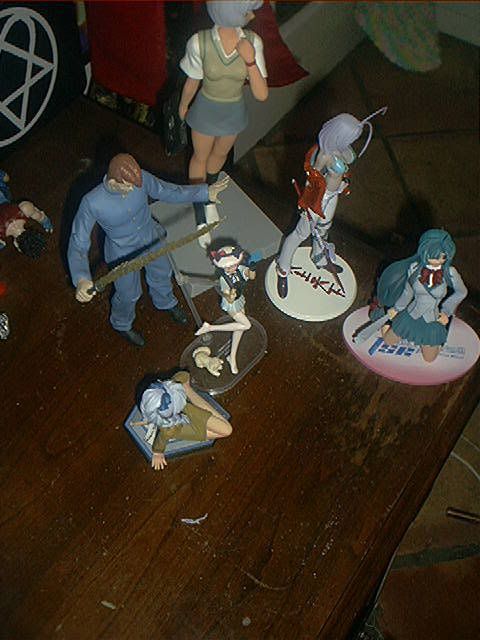 I will have a better pic up later, I was just in a hurry to take a pic because my battery was dying
Bulma Dragonball figure, comes with bike- 14$

the back of the bike is flat, its only a decoration.

Tessa figure from full metal panic- 15$
dun wanna sell her but I need money to pay my bills
(originally bought for 50$ when chidori came with her as a set)
Ayanami Rei- 5$ shipped
Shes realllly big compared to most figures, She's about 11 inches tall.

Kuwabara from YYH- 5$ shipped
I'm not into YYH as much as I used to be... so I figured I'd sell it to someone who would appreciate him more than I would.


Ropponmatsu from Excel saga (comes with Menchi the dog/emergency food supply)- 5$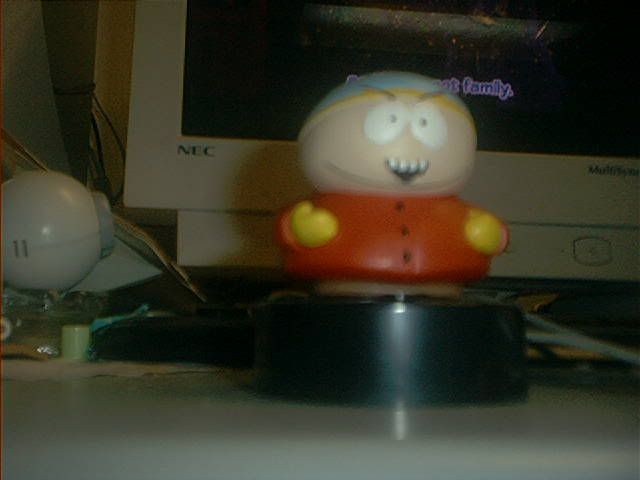 Cartman talking south park figure- 6$ shipped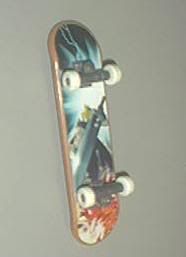 Cloud FF7 -fingerboard (basically its a mini skateboard)- 3$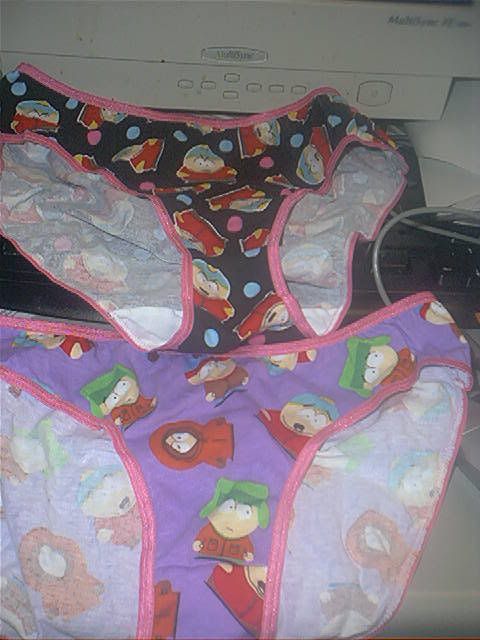 CLEAN & NEVER WORN South Park underwear...lol (size 7) 3$ each
(I originally bought these for my friend because she used to like SP, but I found out she doesnt like em anymore)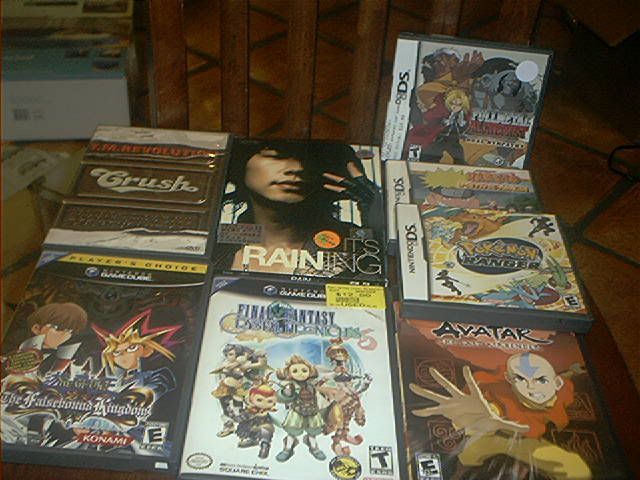 T.M Revolution Summer cruch 2002: 8$
Bi/Rain: Its raining vcd+cd set- 24$ shipped
Pokemon Ranger DS- 16$ (brand new)Naruto Path of the ninja- 16$ (Brand new)
Full metal alchemist Dual sympathy- 12$
Final Fantasy Crystal Chronicles- 10$
Yugioh Falsehood kingdom- 5$Avatar: last airbender- 18$ (Brand new, only played once.Still has the 35$ price tag on it when i bought it)
Size 10 heel boots - 10$ (i originally payed 25$ for them :) )
Pleather vest -6$
Winnie the pooh blanket - 4$
Dane cook retaliation - 13$
Dane Cook- Rough around the edges : Madison Square Gardens - 13$
Yaji & Kita: The Midnight Pilgrims - 20$
I dont even know how to describe this movie its so wierd, so I'm gonna steal the review off the back xD)
This is the story of two male samurai in Edo period Japan who are in love. One is married, the other is a drug addict. They decide that in order to make things better they will go on a trip to Ise Sanctuary, where its presumed, everything will be made right. What happens once they get on the road is the movie and its as wild and wacky as anything your likely to see. There are numerous puns, both visual and verbal; we get bodily function jokes; gender bending characters; gay jokes;romance; spoofs of films and music (and musical numbers); trips through time and space; a search for "my reality"; drug induced hallucinations and other things... (office girls on parade? Zombie Bartender? Born to be Gay?).Its probably more fun to discover the weirdness on your own, besides its too hard to describe simply.
I also have a plus size Black and Gold Kimono (fits sizes 18-25)

I originally bought it for 110$+plus shipping back in October (only worn once)
I'm selling it for 75$ shipped anywhere in the US and 82$ anywhere internationaly)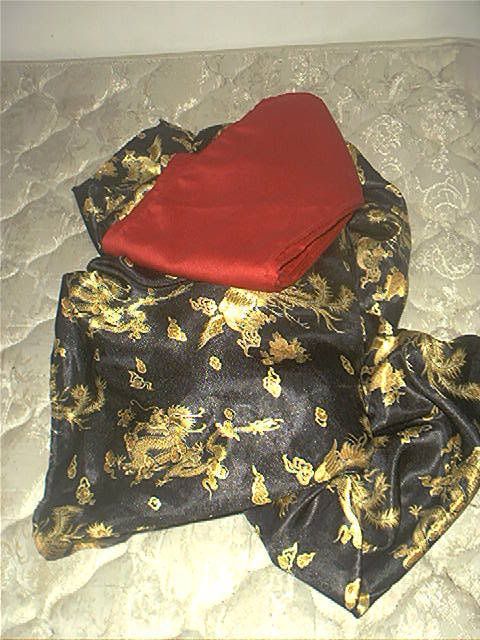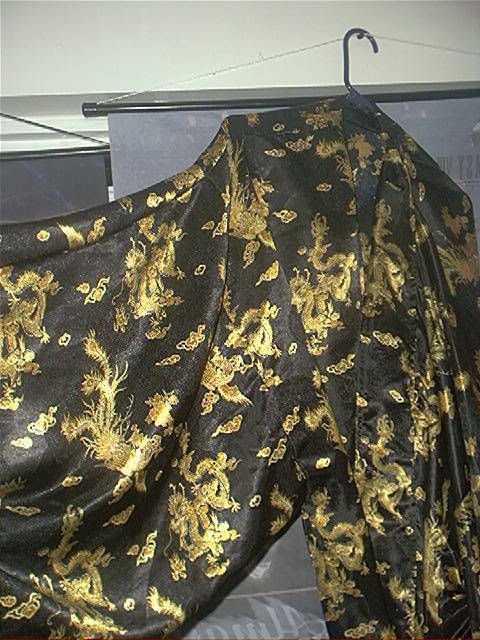 Saiyuuki: GojyoxHakkai, SanzoxGoku
Gundam Seed: YzakxDearka, FllagaxKira, Dearka x Miriallia, KiraxLacus, AthrunxMiguel, AthrunxCagalli, Yzak x Shiho
Full Metal Alchemist: EdxWinry
Private Evil-Eye Nougami Neuro: Hayasaka brothers+Godai
Naruto: KakashixMizuki & KaukuzuxHidan
Gintama: HijikataxGintoki
Hikaru no Go : KagaxMitani
Prince of tennis: Inui x Kaidou Ootori x Shishido
Gankutsuou: FranzxAlbert
Final Fantasy 7: CloudxAerith & Tifa
Guilty Gear: EddiexMilliaCode Geass : Mao centric gag
, SchneiserxLloyd,AsahinaxToudou,GilfordxD
alton
Final Fantasy 8 (gag & IrvinexSelphie)
Final Fantasy 10 (WakkaxLulu)
D. Gray man (TykixAllen)
Bleach (YumichikaxIkkaku)
Wolfs Rain (TsumexKiba)
Naruto (KakashixSakura)
Princess Mononoke (AshitakaxSan)
Xenogears (SigurdxBart)
Getbackers (BanxGinji)
One Piece (ZoroxSanji & SmokerxTashigi)
Slam Dunk (RukawaxSakuragi and mamy others)
Tales of the abyss (LukexTear hentai) and a gag doujin
Fullmetal Alchemist (RoyxEd & Roy/Hughes)
Star Ocean (random guysxNel hentai)
King of fighters

Shani/Clotho/Orga shounen ai Gundam seed doujin - bidding starts at 13$
(theyre the biological CPUs, I looked for a doujin with them in it for the longest time, but I need money so I guess I'll have to get rid of it...;_; )
Athrun x Miguel Gundam Seed YAOI doujinshi (half text)- 12$
(talk about rare pairings..lol)








YzakxDearka YAOI doujinshi R15 14$
(my fav Gundam Seed pairing ;_;)




FllagaxKira NC17 - 14$


FllagaxKira Gundam Seed R15 Doujinshi - 12$




Dearka x Miriallia & Kira x Lacus R15- 13$
(my fav het pairing ;__; I hate selling these *emo*)



Athrun x Cagalli, Yzak x Shiho - 8$
AthrunxCagalli NC17 Gundam Seed Doujin- 12$
SanzoxGoku Saiyuki shounen ai Doujinshi - 8$
FranzxAlbert Gankutsuou Doujinshi gag/shounen Ai PG15- 12$
(A republication of 2 doujins put together in one)
KagaxMitani Hikaru no Go NC17 - 14$
gag doujin featuring Mao from code Geass - 12$
GintokixHijikata Gintama shounen ai (some text) - 10$

Inui x Kaidou & Ootori x Shishido cute shounen ai gag -10$
Hayasaka brothers+Godai shounen ai doujin - 11$
(another doujin I got cuz its rare that you see any doujins that arent NeuroxYako (plus I <3 Godai :D ))
EdxWinry Full metal Alchemist light romance 72 pages - 15$
(Why are EdxWinry doujins so hard to find?!??! >_< )
Guilty Gear hentai EddiexMillia (and some tentacles...xD) - 14$
CloudxAerith & Tifa (but mostly Aerith) NC17- 14$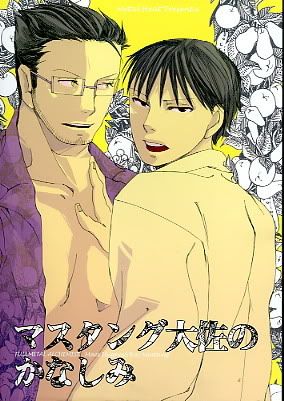 Fullmetal Alchemist: HughesxRoy
gag and yaoi
11$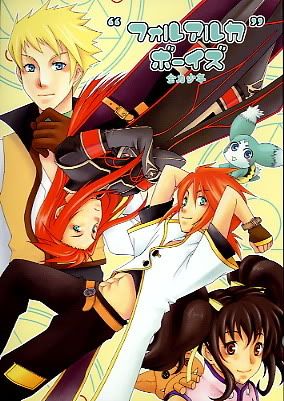 Tales of the Abyss: shounen ai and gag
7$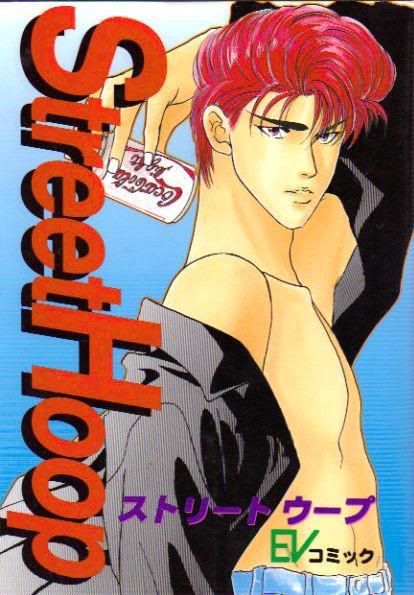 Slam Dunk shounen ai anthology 6$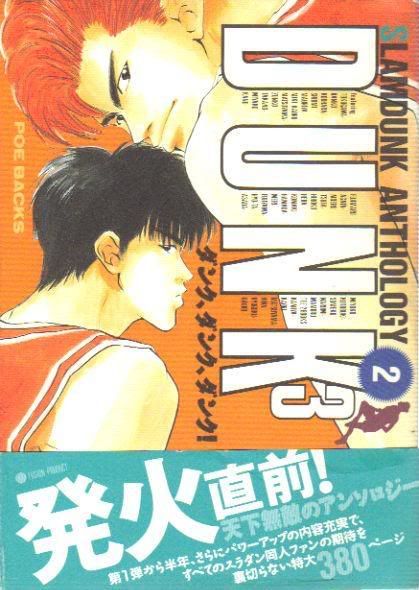 Slam Dunk shounen ai anthology 6$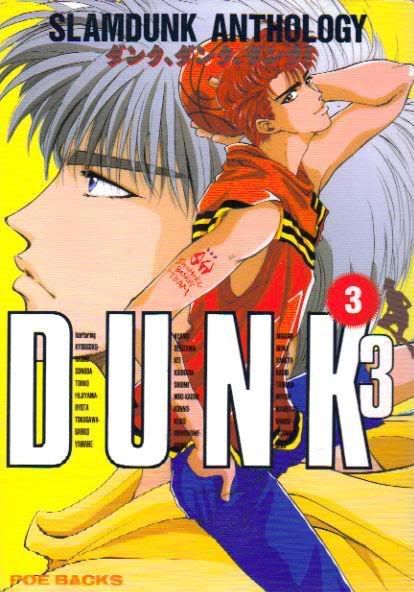 Slam dunk yaoi anthology- 7$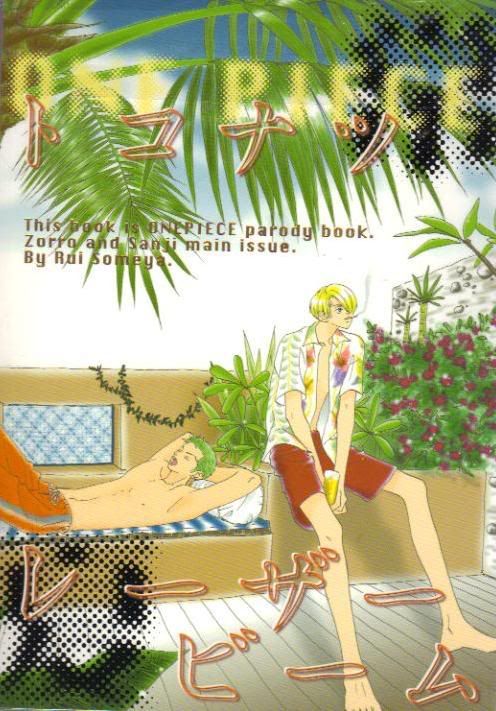 ZoroxSanji yaoi doujinshi: tonkatsu-
13$
10$ (18 pages) (on hold)
SigurdxBart -
13$
10$
Yaoi/Smut (Xenogears doujinshi are VERY RARE)
SigurdxBart-
13$
10$
Yaoi/Smut ( or both for 23$ shipped)
princess mononoke doujinshi- 6$
TsumexKiba- Rated R- 13$- 13 pages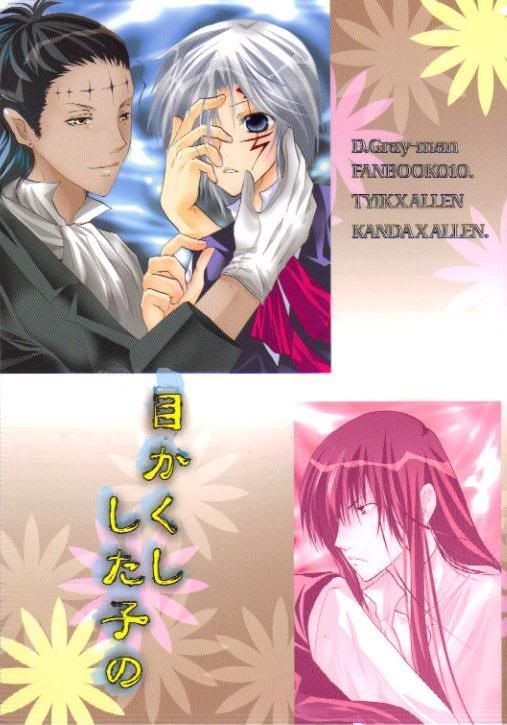 D. Gray Man: TykixAllen Yaoi (rare pairing) 15$
HijikataxOkita NC17 yaoi doujin- 19$ (rare gintama pairing)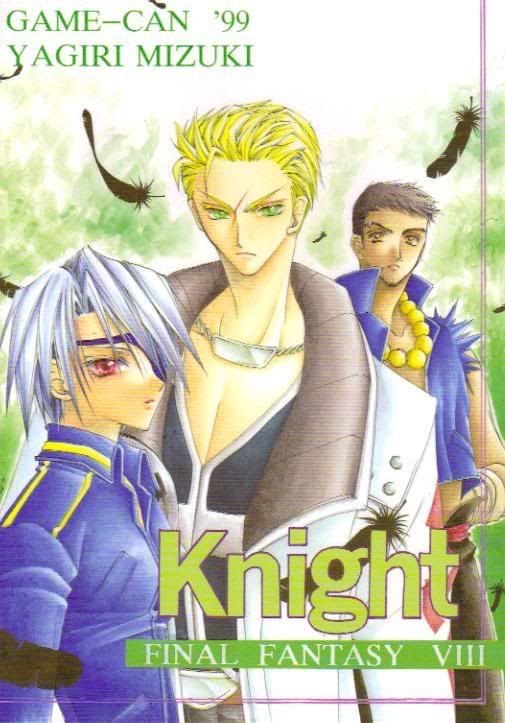 Final Fantasy 8: gag doujin featuring the Disciplinary commitee (I.E. Seifer, Fujin & Raijin) - 11$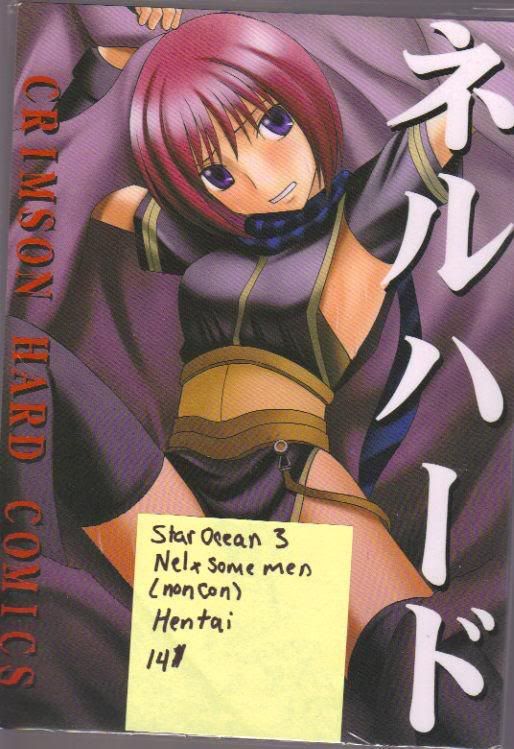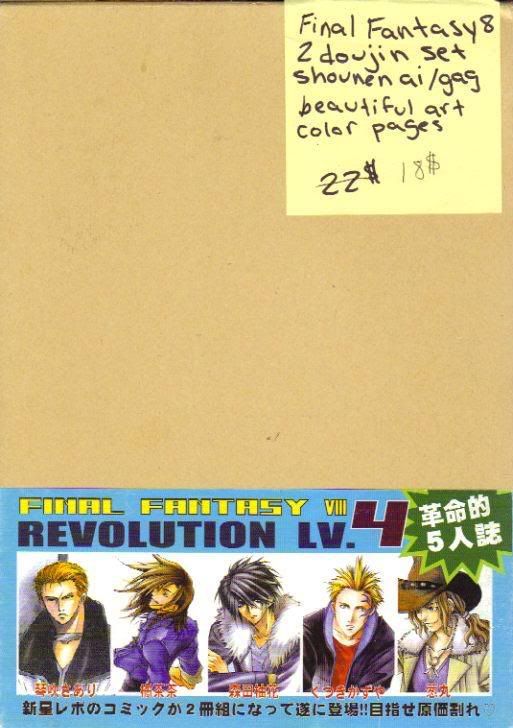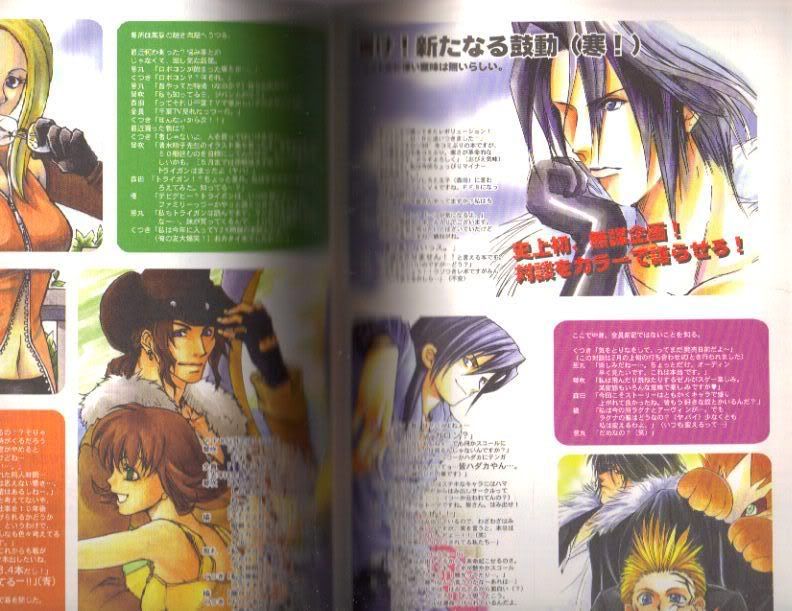 sample page
^ sample pages (sry bout the crappy quality but my scanner AND my camera died so i had to use my webcam...lol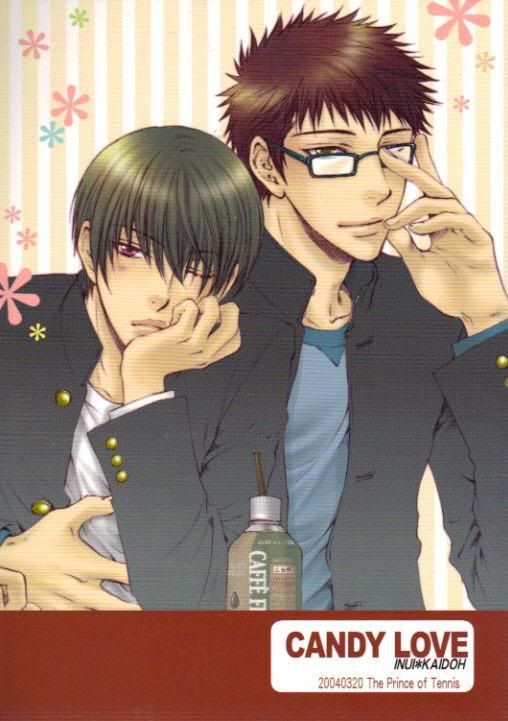 Prince of tennis InuixKaidoh smut - 16$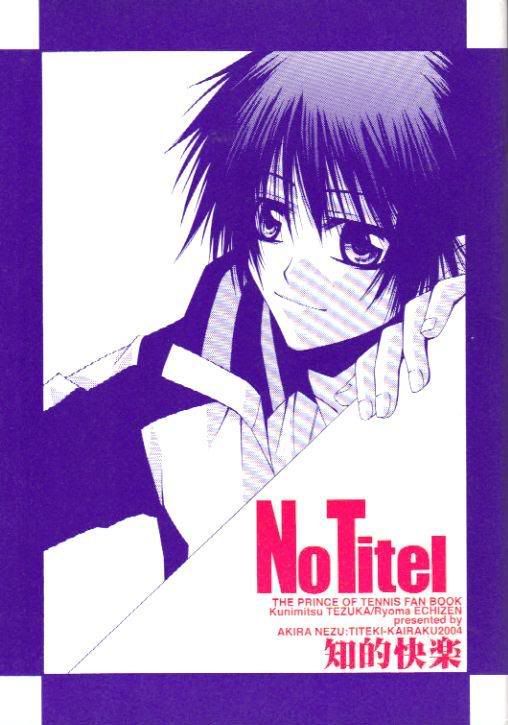 Prince of tennis yaoi doujinshi:TezukaxRyoma- 12$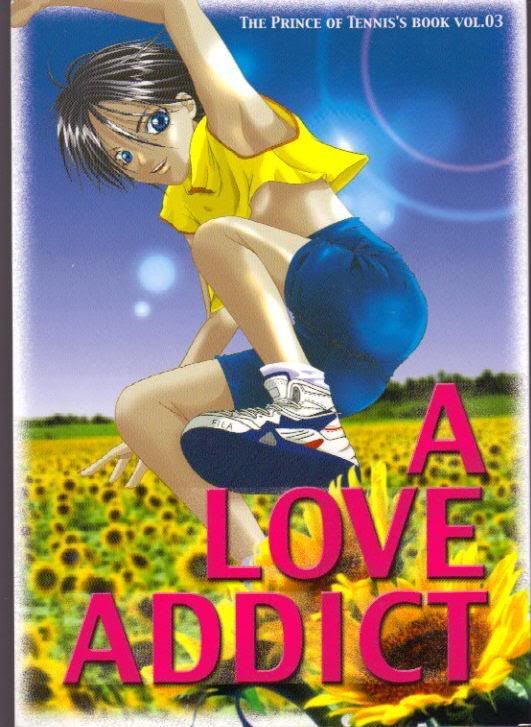 Prince of tennis yaoi doujinshi:TezukaxRyoma- 12$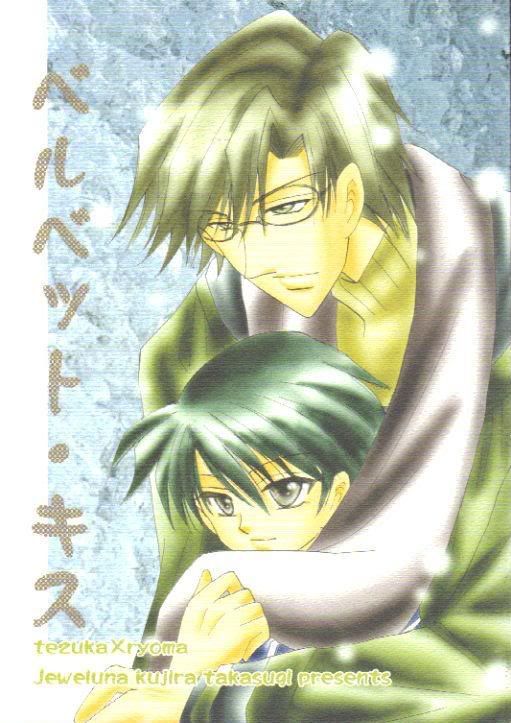 Prince of tennis yaoi doujinshi:TezukaxRyoma- 14$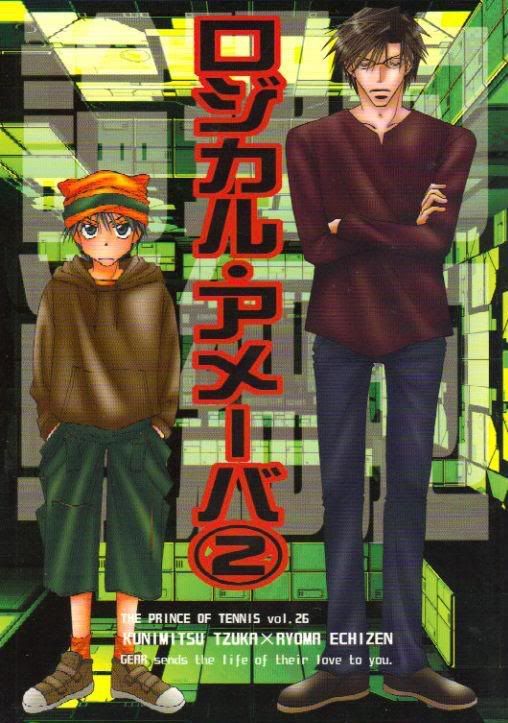 Prince of tennis shonen ai parody doujinshi:TezukaxRyoma- 8$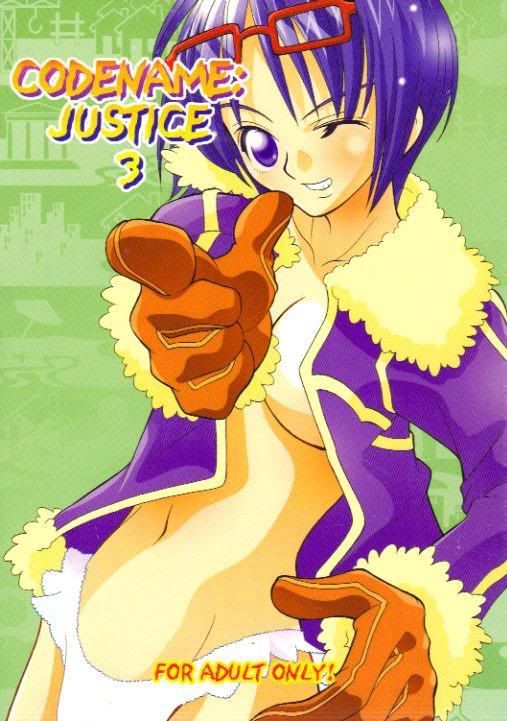 One piece: SmokerxTashigi: codename justice 3- 16$ (Tashigi is trying to teach smoker to swim, he drowns, she does cpr, then he wakes up and they have sex on the beach.....XD )
sample page 1
sample page 2