Thanks to everyone who bought from my last sale. I have even more new items so please check them out if you wish! You know the drill- Paypal, money orders, or concealed cash (AYOR). This is my moving sale, which means massive amounts of things need to go. I need to be able to get to Madison with one carload -_-

First off, I am selling 2 sets of CLAMP manga in English on Ebay. They are CLAMP School Detectives and CLAMP School Defenders. I have a Buy-It-Now price on the Defenders and if you want to make an offer on CSDetectives I am willing to hear it out here on LJ.

http://shop.ebay.com/merchant/angie_no_miko_W0QQ_nkwZQQ_fromZQQ_mdoZ





Collection of official Sailor Moon candy figures (Not sure what else to call them, lol). They once came in little boxes (which I have and can send if you want) with a piece of candy. They all have little pink stands you can attach and pink R versions of their wands (Mercury doesn't have her stand but ironically she is a senshi that can stand on her own without it so you're not missing out). I was thinking $5 each plus whatever it costs to ship them to you. If you buy the whole set I will ship them for free if you are in the US!SOLD
Sailor Venus Ring- It's a cute ring. $2 plus shipping (which won't be much o.o).




Brand-new Sailor Mars keychain. Moon is on hold for now.




Sailor Moon tins- Are they lunchpails? Are they tins? Are they decor? I don't know, as you can see I've merely hung them up for 10 years or so. I'd like to get what I paid for them since they are hard to find, which is $12. I know they were $12 because I just looked at the price tag sticker on the bottom of them :P, I do not have an awesome 10 year+ memory. If you buy them both I will discount them both to $20 plus whatever it costs to ship them.




Sailor Moon Mixx Cover Issue (1-3)- Not in deplorable condition but not in mint condition either. I would rate it as Good. It's really good for a blast from the past. $2 plus shipping (I'll use media mail so its cheap unless you want it priority mail).




Sailor Moon mini-poster, gently used. $7 *SHIPPED*





Brand-new, never opened Cloud Final Fantasy VII PLAY ARTS Vol. 1 Figure- This figure is freaking gorgeous in real life. No crappy photo of mine could do it justice. He is about...8.5 inches tall and comes with his sword, a stand, and changeable hands (???). He is awesome. I'm looking for $25 shipped OBO.




Stuffed Pikachu- Used for display only. $10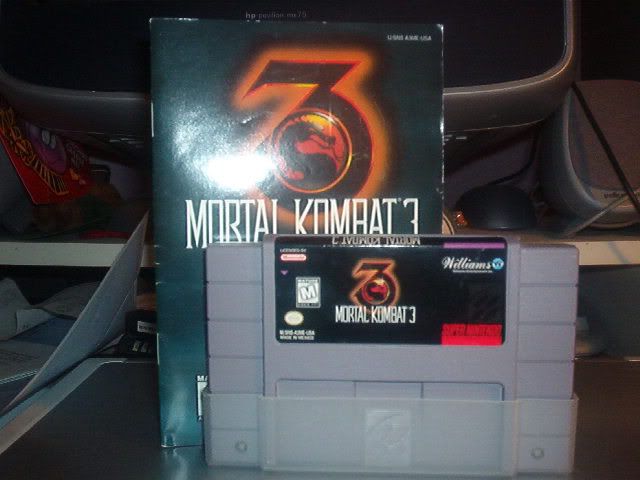 Mortal Kombat 3 SNES Game with Manual- In good condition, tested today to make sure it works. Looking for $6 shipped OBO




Tidus and Yuna wallscroll- Image is not mine, but I couldn't get a good picture of the actual scroll because it is currently hanging behind my bed. Very big scroll and bright, rich colors. Looking for $20




Final Fantasy XIII Poster- Brand new. Looking for $7 *shipped*




Final Fantasy X-2 Poster- Gently used. Looking for $7 *shipped*




Final Fantasy X Poster- Gently used. Looking for $7 *shipped*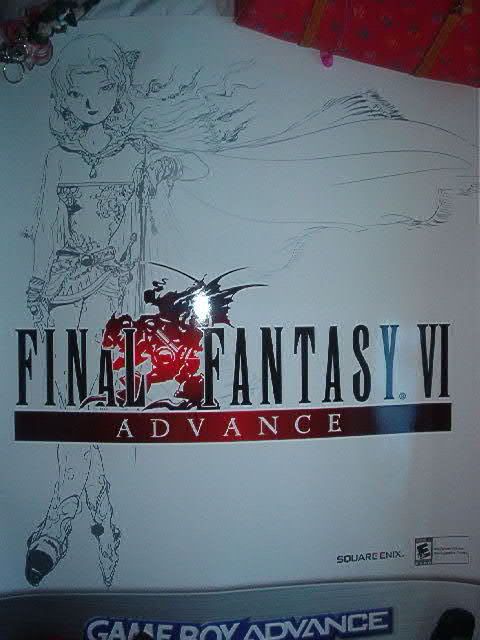 Final Fantasy 6 Promo Poster- Got from a store after they were done hanging it up. No tape or hole marks, but there is some slight damage on the outside edges and a small bend in the top corner. Made of very thick poster paper. Taking offers.




Chrono Trigger PSX Game- The game is brand-new and has never been played. Will come with Final Fantasy IV, but I'm not "selling" it because it is damaged and it probably doesn't work, so I'm only selling you Chrono Trigger. Looking for $10 OBO. Will be cheaper if you just want me to ship Chrono Trigger in a thinner case with instructions and art because the big case it comes with is heavier.




Lunar 1 and Lunar 2- Both of these games come with all their extras, but if you're not sure about something please ask me and I will tell you if it's in it or not. I bought them but I'm never going to play them. Not pictured, but I also have the official Lunar 1 Strat Guide. I'm taking offers on them, but I think I want at least $50 for each game. I have no idea for the guide.



Tales of Destiny II- I want to put this up for sale after I beat it, and I want to offer it on LJ before Ebay, but I wanna feel around and see if anyone is interested. This is the American Tales of Destiny II, aka Tales of Eternia, aka the game you can see in the photo next to Tales of Destiny and under Final Fantasy Origins. Sorry, this is the only picture I have of it ATM. If I get a good offer here I promise to sell it to you as soon as I'm done with it.





Imported Full Metal Panic Figures. Brand-new and never removed from packaging. Taking offers.




Q-Ko-Chan manga 1-2 COMPLETE ENGLISH- In very good condition with slight bends in corner cover of first volume. Retails for $22+, asking for $14 shipped for both, or $7 shipped seperately.




Bleach Wallscroll- Like new, very bright and pretty. Looking for $20 OBO.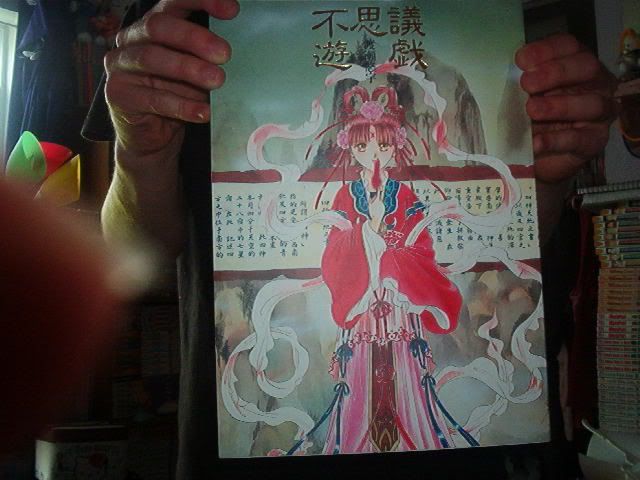 Official Fushigi Yugi artbook. In Japanese. Full-color photos and a pull-out poster. $10 OBO.




Tamahome keychain, brand-new. $5 +$2 shipping.