Hi everyone- so we're moving and I was instructed to clean out all my boxes in our storage. And lo and behold, I found an entire box of just Pokemon stuff. I mean, I had no idea I even owned so much, and it's a little mind-blowing. (I even found a box of Pokemon cereal!)

I tried to divide everything up as much as I could into pictures where you could see everything. I pretty much don't have any idea for prices, so if you want to make an offer, that would be fine by me...I can take paypal, money orders, and concealed cash. I can't do any trades, sorry. I'm trying to get RID of stuff :)

The Pokemon stuff has been posted in other comms so the sold things should be crossed out, I edited the pictures through photobucket. But I know sometimes they don't show the new pics right away, so please don't despair if I sold something you thought was available. You have my deepest apologies -_-

On top of that there are other new anime things up for sale including a super rare Please Save My Earth soundtrack, which you can see after the Pokemon cut.

TAKING OFFERS FOR ALL POKEMON STUFF!!!

I also have some Sailor Moon and Fushigi Yugi stuff on Ebay: http://search.ebay.com/_W0QQfgtpZ1QQfrppZ25QQsassZangieQ5fnoQ5fmiko





Pokemon Monopoly- Comes complete with every card and game piece.




Pokemon poster in frame- Sorry the picture came out really weird, I think it's because I took it outside. I can take the poster out of the frame if you like, that will cheapen the shipping.




3 Pokemon Hats- Never used. Features Charmander, Squirtle, or a hat with all 3 plus Pikachu.




2 Pokeballs with Golden Pokemon cards- The pokeballs have wear, although 1 has slightly more than the other. It's very hard to photograph because of the shiny paint on the balls. One of the cards comes with its see-through case, the other doesn't. Both are Poliwhirl.




Beanie sets- As you can see, I have doubles. Not all of them have their hang tags, but most do, so please ask if the one you want has tags (if you care). I KNOW Dratini and one of the Poliwhirls doesn't have tags. One of the Squirtles has some slight blue spots on the back of his head.




Plush dolls- All have tags. Squirtle is a gift from a friend of mine who went to Japan so that's why his tag looks funny.




Big plastic models- Squirtle talks, but his tail is broken.




Pokemon the Movie 2000 Program/Activity Book- The cover is falling off, but it can be taped.




Pokemon Battling Coin Games- I have never played this before, I don't think I even opened it. But everything is included.




Deck of PLAYING cards with tin- Everything is in great condition here.




Special Pokemon Card Game- Comes with instructions for a special Pokemon game, but you can also use them as playing cards.



TONS OF FIGURES AHHH! Here are some close-ups:



Erasers- Never used.




Misc. Toys- We've got 2 squirtle keychains (one lights up), a Pikachu in a jar (??), a stamp set (not sure if all the stamps work or not), a compass happy meal toy, 2 bouncy balls, 3 BattPokes (the third one is pictured up with the SNORLAX bean bag plush near the top of the post, sorry), a cool toy from a happy meal shaped like a gameboy.




Pokemon 2000 happy meal toys- When you push them down in their stands they light up, talk, move, etc. Zapdos is missing his real base, so we gave him a replacement one. He still makes the "ARRRRRG!" bird call, lol. The sounds, lights, etc. are based in the card, not the base.




Plush toys- Charmander, Squirtle, and the ghost have clips. Bulbasaur has a lanyard. Pikachu talks when you squeeze him.




Burger King toys- Some of them come with the balls, some don't. If you just want the balls, that's fine too. We have doubles of some and like 4 Venusaurs...(one is sealed and not in the photo)




Holographic cards- Some are displayed, the rest are in the rubber-banded stack. All are in gorgeous condition. They are very thick cards.




Tattoos, big stickers (There is a Persia one up by the Snorlax beanie photo near the top), little stickers...




More misc. toys- Charizard box, Koffing plush that turns inside out into a Pokeball, 2 mini Pokemon mangas, 2 master balls (one is a bit scuffed up), a Tentacool...thing. Seriously, I don't know what it is. Looks like a mold or something...




Giant Meowth and Squirtle plush pillows- freshly laundered and very soft. Meowth is just over 2 feet tall and Squirtle is just under 2 feet tall. Meowth also has a "battle scar" (being loved too much) so my mom patched him up!

Wow, that was a lot...thanks for looking. Also, I don't know if anyone here is interested in Pokemon cards, but we have about 1,000 we are looking to sell...thanks!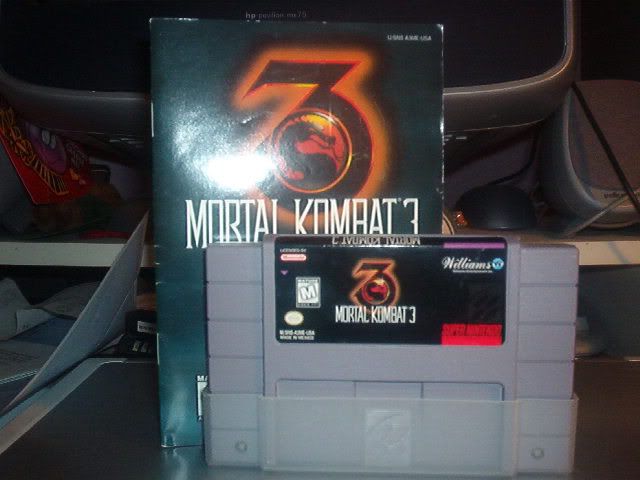 Mortal Kombat 3 SNES Game with Manual- In good condition, tested today to make sure it works. Looking for $6 shipped OBO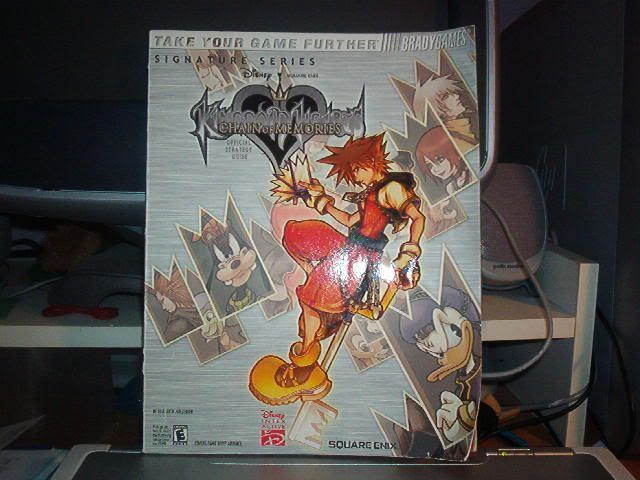 Kingdom Hearts CoM Strat Guide: In pretty good condition. Has some bends in the corners, and comes with the pull-out poster. $10 shipped.




Final Fantasy XIII Poster- Brand new. Looking for $7 *shipped*




Final Fantasy X-2 Poster- Gently used. Looking for $7 *shipped*




Final Fantasy X Poster- Gently used. Looking for $7 *shipped*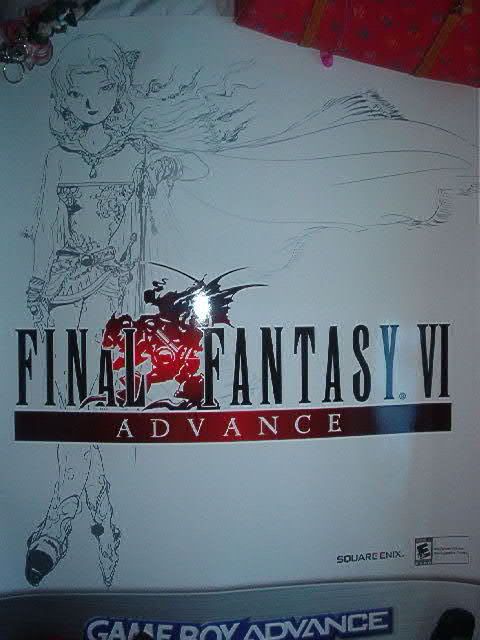 Final Fantasy 6 Promo Poster- Got from a store after they were done hanging it up. No tape or hole marks, but there is some slight damage on the outside edges and a small bend in the top corner. Made of very thick poster paper. Taking offers.




The games not marked are all for sale and are accepting offers. There are no set prices. In case it is hard to see, that means Dragon Quest VII is available.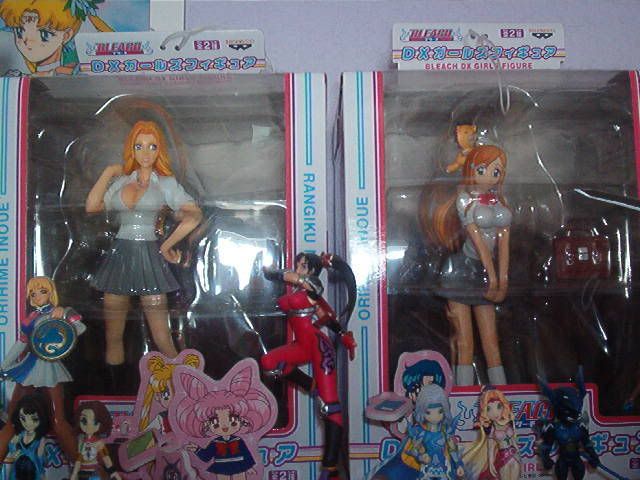 Very rare and pretty Bleach figures from a UFO machine in Japan. I have duplicates so I am putting the doubles up for sale. These are full-sized figures. Taking offers on both.




Like-new Bleach wallscroll. Looking for $20 shipped but I am taking offers!





$10



Gently used. $7 shipped.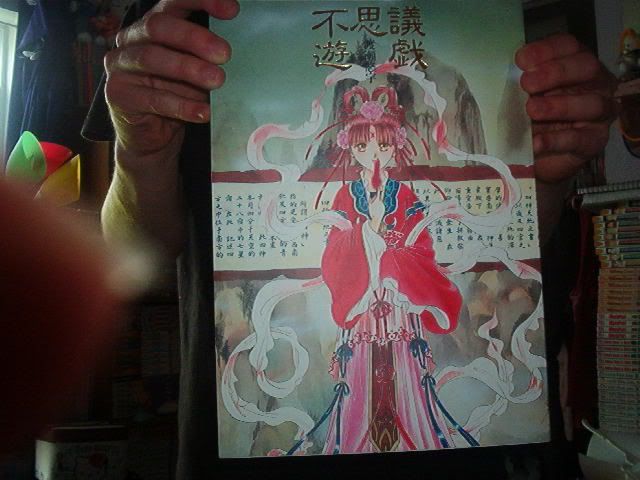 Official Japanese Fushigi Yugi artbook. Full color with pull-out poster. Taking offers, but was hoping for $10 shipped.





Official JVC release. Extremely rare. I've seen this go for over $50 on Ebay, but I am just taking offers right now.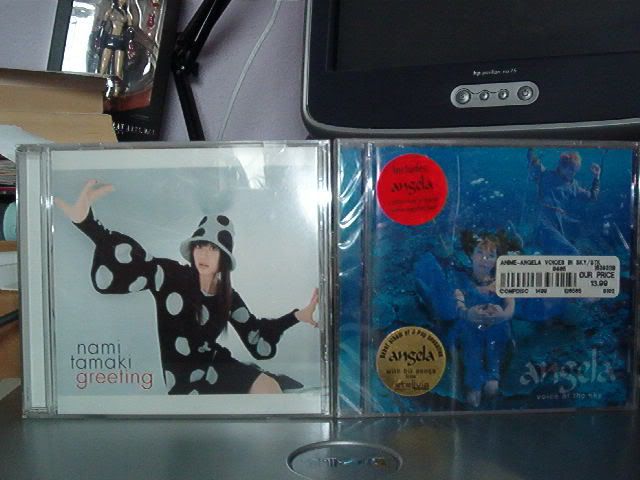 Both are official releases. The one on the left is sealed. Taking offers for both.





Comes with a like-new soap dispenser, dish, and toothbrush holder. Hoping for $20 shipped but I'm taking offers.


Thanks for looking at everything!