Hi. I'll take reasonable offers :) And yes, I will trade.



EDITED:
Flame Gameboy Advance SP. SOLD!
Final Fantasy stationary booklets.
Star Ocean: Till The End of Time - Greatest Hits. SOLD!
Rikku, Yuna, Paine PlayArts figures. SOLD!
Capcom vs. SNK (used copy) SOLD!
Fear Effect (used copy) SOLD!
PS2 memory card. SOLD!
Paine key chain SOLD!
Playstation memory card SOLD!
Seifer figure SOLD!
Gamecube Wireless Controller SOLD!
Gameboy Player (for the Gamecube) SOLD!




Games
King of Fighters '95 - Original [10.00]
Parasite Eve - Greatest Hits [15.00]
Resident Evil: Director's Cut - Greatest Hits (used copy) [5.00]

& etc.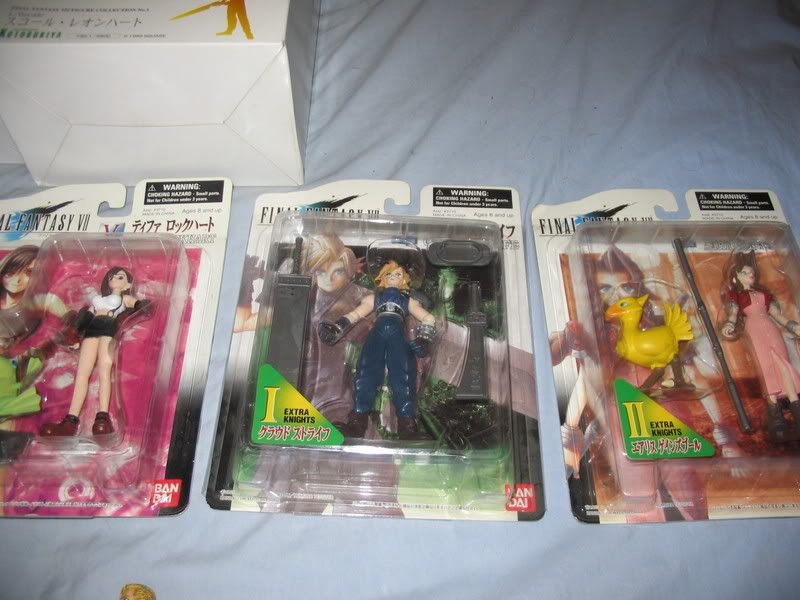 Final Fantasy VII Extra Knights trio set (Cloud, Tifa, and Aerith):

60.00 plus shipping costs for all three; individual is 25.00 plus shipping costs.



From the top-left to right:
Seifer keychain 7.00
Zell figure 12.00 each



Here is an adorable little salt-and-pepper shaker set. They're unused and I want to find them a good home and I believe they're cats. :) Make an offer.

Wolfwood keychain 5.00 and katana keychain 8.00

Manga 5.00 for each.
Beck Vo1. 1
Getbackers Vo1. 1
Hana Kimi Vol. 21
Megatokyo Vol. 1 & 2
Tsubasa Vo1. 1
Girl Got Game Vo1. 1
Soul to Seoul Vo1. 1
Naturo Vo1. 1
Tokyo Babylon Vo1. 1
XXXholic Vol. 1 & 2

Picture can be taken at request. Getbackers' cover is bent at one of the corners. All the others are in excellent condition (only minor shelf wear if anything).

Feedback from my EBay profile here and XD