I got a whole bunch of random stuff for direct sale, because I just don't have the patience for ebay right now!
Please make a reasonable offer for the items listed.

Clothes

Ba-tsu brand gothic lolita/aristocrat white blouse. From Fall 2004 collection. Worn and washed once, in perfect condition. Has Ba-tsu embroidered logo on left chest, heart shaped buttons, ruffle down the front, collar, and cuffs. Says "flapper devil" on the back collar. 100% cotton, official Ba-tsu club brand, has extra button sewn into inside tag. Japanese size medium, would best fit a bust size 32~36.





Black Peace Now floor-length trenchcoat. From Winter 2004~2005. I adore this coat but I'm too short to wear it and look cool (I'm 5'3). It's double-breasted, fitted at the waist, has two pockets and is totally lined. Absolutely gorgeous tailoring. Japanese size medium, would best fit a bust size 32~36, but since it's a coat it's more forgiving for bigger sizes. Very long, model in picture is 5'8. Worn once or twice, in perfect condition. Original price over $300.





Morbid Threads floor-length skirt. Black brocade with red panel (not shiny). Fitted waist, zipper in back. American size small (waist size around 26). Worn several times but still in great condition.





Other

Sex Pot Revenge mini pillow. Winter 2005 exclusive item. Small pillow. Never slept on (lol). Pen shown for scale.





Sex Pot Revenge "Vinyl Syndicate" magazines. Sex Pot's first two issues of the Vinyl Syndicate magazine, which is a magazine similar to KERA. It features clothes, music artist interviews (visual kei, punk, and rock), CD reviews, music artist collaborations and photo shoots. Issue #1 was extremely limited in print and now impossible to get ahold of. Issue one artist collaboration [big photoshoots]: Jelly, Olivia, Wyse, [FIGURe;], Antic Cafe, PANIC*ch. Also contants reports of MUCC, Sid, Balzac, etc. Issue two artist collaboration: ZIGGY, THE-SECT, Plastic Tree, Vidoll, Phantasmagoria, Misa (Babylon) and Kikasa ([FIGREe;]), and PANIC*ch. Full color, appoximately 30 pages each.





Visual kei items

Gazette official goods lighter. Red lighter with "The red hot Gaze rockers's ruder" printed on it, with cartoon nurse. Official goods, still in original bag with PS Company logo. Never used.





Panic Channel photoset. Photoset from the "Kodoku mousou" era, with Yuusuke. Super rare item, five close up shots. Official goods.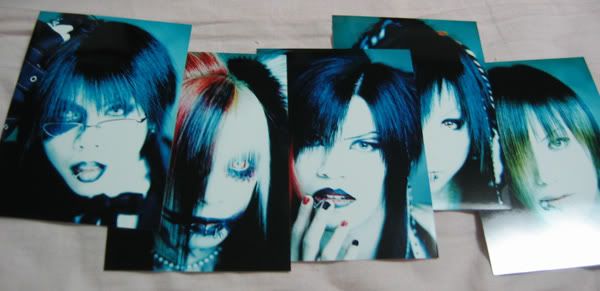 Aliene Ma'riage "Ma'ria" CD. Super rare gold-cover CD, released 2000.08.26. Original price 1500y. Factory sealed. 3 tracks:
1) Virgin Mary
2) α~精神異常者の脳内麻薬~
3) revive(殺意)

Ash "Aleph" CD. Disbanded PS Company band Ash CD released 2001.05.02. Original price 2100y. Factory sealed. 4 tracks:
1) Photograph
2) Uso
3) Hallucination
4) Wasurenagusa

Shock Edge 2001 omnibus CD. "Super compilation CD", contains 15 tracks, for a great sampling of the popular bands of that year. Released 2001.09.29, original price 2940y.
1) "Brain Cracker" - "FUZZ" the Shun'S Cybernetic Community
2) Ononotte shine!! - Akira
3) neo-Nazism - Phobia
4) Sonzai - Jyakura
5) Kakusei jelly - Kagerou
6) Space cowboys - Vivid
7) FREE - J+Jenius
8) As if... - RONDE
9) Monster head - LANDSCAPE
10) Hanakotoba - Aioria
11) = - Quarry
12) Suna no oukoku - ElDorado
13) Suimin - MUCC
14) Kumo - S
15) AREA - Psycho le Cemu






I can accept payment through the following methods: non-credit card PayPal, International Postal Money Orders (from the US or Canada), cash in USD or Japanese yen. [Note: I can accept credit card PayPal as a last resort, but I will charge an extra $5]
Items will be shipped from Japan, via airmail. The jacket will cost about $15 to ship, shirt $7, other items $5 or less.

THANKS FOR LOOKING!