This is my first time selling stuff D: So please be kind =]
And you can give me tips/advice too <3
Basically I need money nao. D:
Right now I can only do paypal. So sorry D:
And if you want one of the posters in a tube *because I haven't folded them* you can....as long as you pay for the tube XD
Okay so for today I have--


~~~~~~~~

RTOC section:

3 RTOC MUCC posters, new never hung, no holes dents or creases and UNFOLDED.....so if you want it in a tube go for it XD *the one here is one of my two personal ones -- these i wont be selling but there

are THREE

IS ONE that are available*

I'm asking for 5 dollars each not including S/H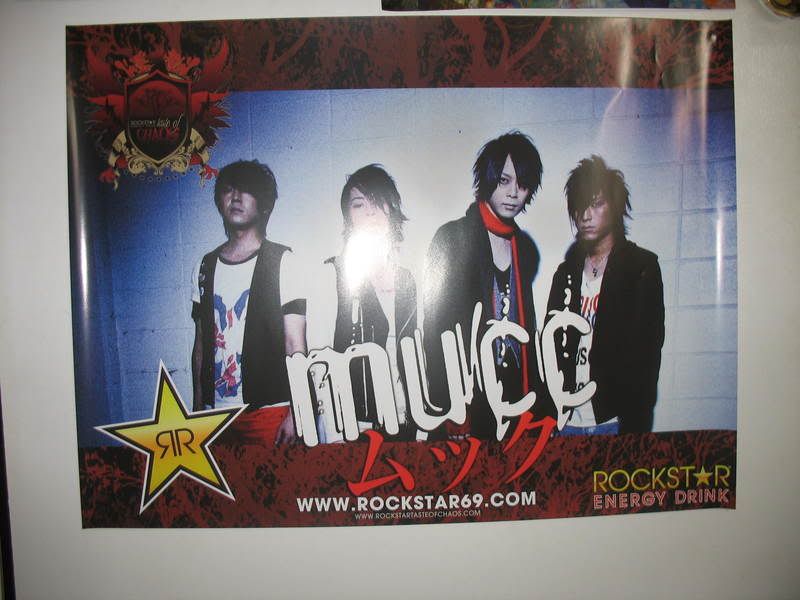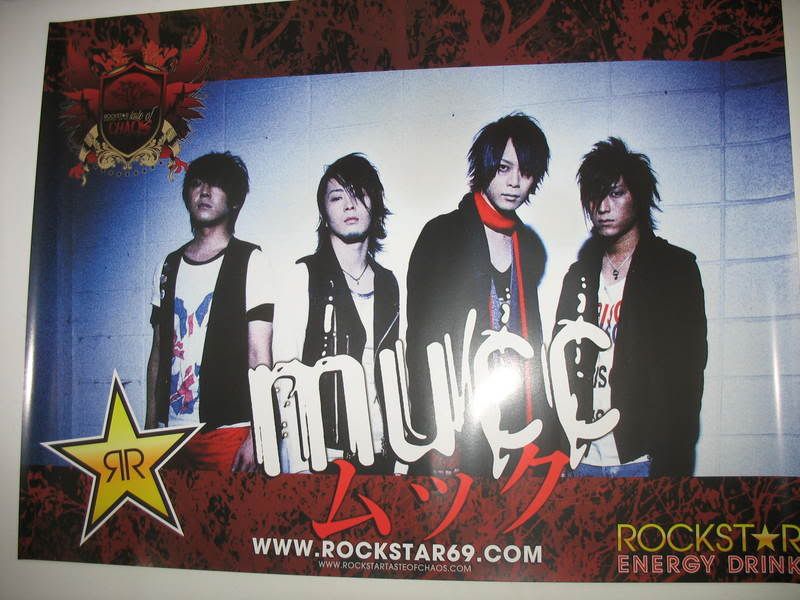 One Idiot Pilot Poster - also new, never hung/folded/dented etc. XD - 5 dollars + S/H
*i'll put a picture if requested*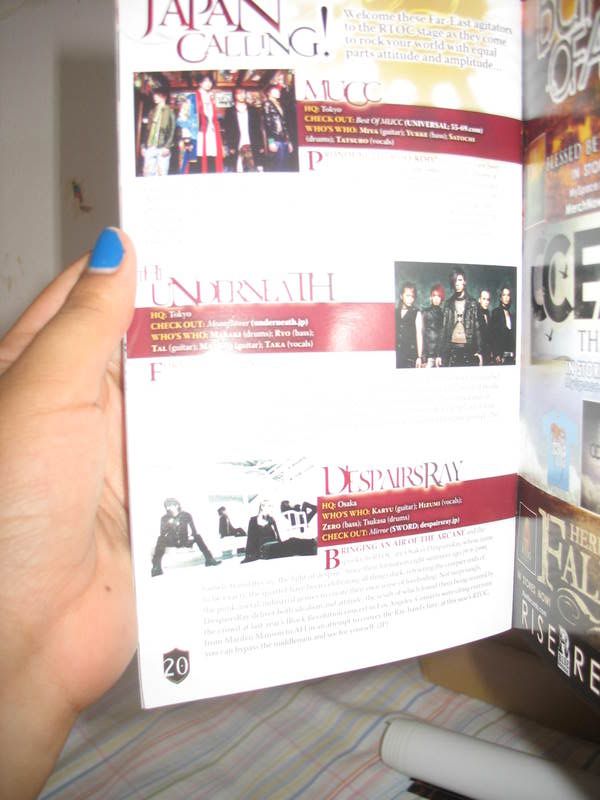 The Official Taste of Chaos Program: It has the one page of the J-rock bands, some bios for the other bands on the tour interviews and some other stuff and lots and lots of advertisements...for Mayhem as well as clothes etc. I'm keeping one for myself as well because just looking at it gets me excited XDD If you missed the tour it might be nice to have *wink*
i have
three
TWO regular ones of these all new except for ONE that has a small crease on the very last page D: - $4 + S/H
HOWEVER there is only ONE that has BULLET FOR MY VALENTINE's autographs -- That one I'm putting up for $15 + S/H *you can haggle the price down a bit if you can convince me ;3*
ALSO from RTOC:
Danger Crue sample cd, unopened and sealed in all its plastic wrapping glory -- This one here is my personal copy so you know what you're getting :D it has: MUCC- FUZZ; girugamesh - Vermilln; SID-Mitsuyubi; ROACH - Aoi sora - Tada soredake no koto-; 176BIZ - Seki Gan; Creature Creature - MABOROSHI; acid android - egotistic ideal
and under each pic. of the artists there are links to their OHP's :D
~~~~~~~~~~
Anime/Manga Section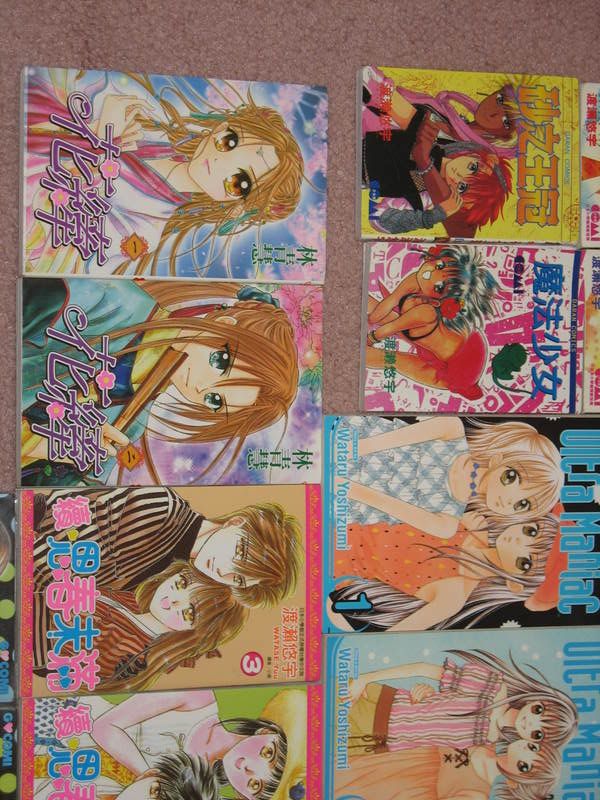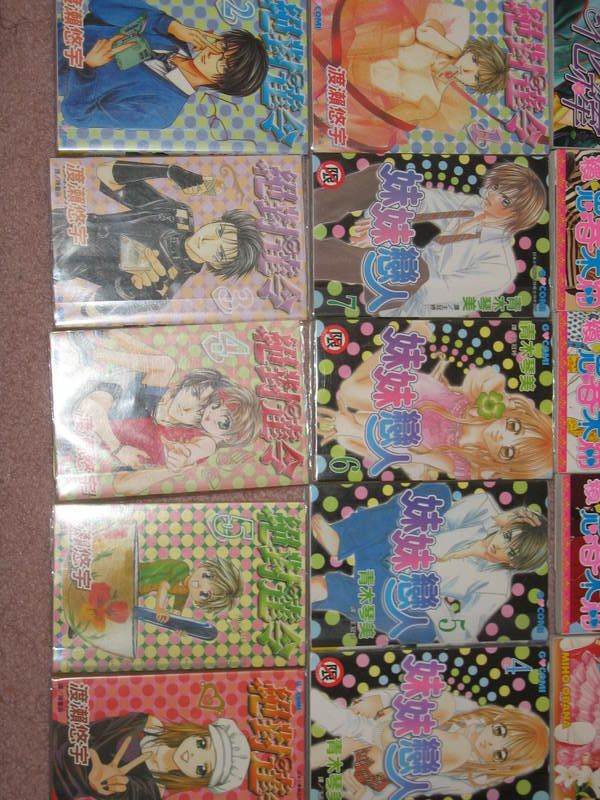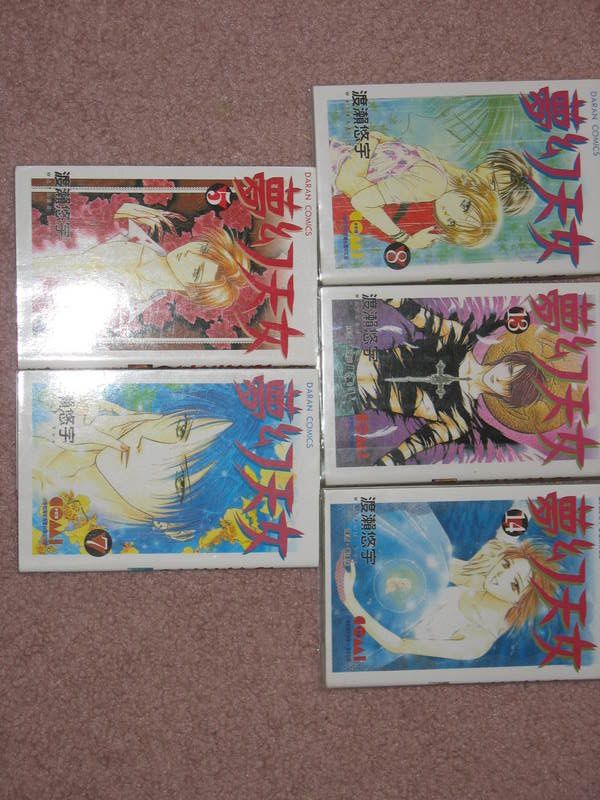 Please note that the US manga are practically mint condition unless otherwise noted D:
Okay here's a condensed list:
Naruto Anime Profiles eps 1-37: Read once, otherwise new I'm asking $9 from 14.99 ....we can haggle ><
Brain Powered Vol. 3 - has a "finger crease" on the front since I got it but since this is out of print I'll ask for $7
Suki Vols. 1 and 3 ...i never found 2 D: -- once again out of print so.... $8 each or $12 + S/H for both
KODOCHA Vols. 4 and 6 - This is also out of print so I'll ask $8 each or 12 +s/h for both
Ultra Maniac Vols. 1-3 -- 6 each i b/c they're in perfect mint condition i swear if you want pics I'll get them. $15 + S/H for all three :D
Tokyo Mew Mew: Vols. 6,7 and 1 of a la mode. -- 5 each or 12 for all three D:
Boku wa Imouto ni Koi wo Suru CHINESE VOLS. 4-7 because my ex-friend took the first three away D: -- name your price i dont care XDD
The two random manwha's whose title I don't know: they go together so $4 dollars + S/H ??? idk D:
Yuu Watase stuffs
Shishunki Miman Okotowari: no idea pm me for info D:
Suna no Tiara: $1.50 + S/H D: it's old has some dents in the top of the spine but otherwise looks like one of those books from the store
Epotoransu Mai Vols. 1 + 2 CHINESE : I'm selling them together for $4 + S/H sorry, i'm not separating them >> Vol. 2 has a couple of pages in the middle falling out though....you can request pics if you want , Vol. 1 is perfectly fine.
Absolute Boyfriend CHINESE VERSION COMPLETE (all six volumes with a plastic bookcover to keep'em safe <3) -- Unless you're totally desperate for only ONE volume I'll be putting the bulk of six for $12 + S/H
Ayashi no Ceres/Ceres Celestial Legend CHINESE VERSION Vols. 5,7,8,13,14 -- 2.50 each or $10 f+ S/H or all five
The other random one......i have no idea but I think its Magical Nan but it has a story about a girl caught in a fire and rescued by a foreigner and another story about a girl and her doppleganger or something and the doppleganger is a guy and tries to molest her crush or something >>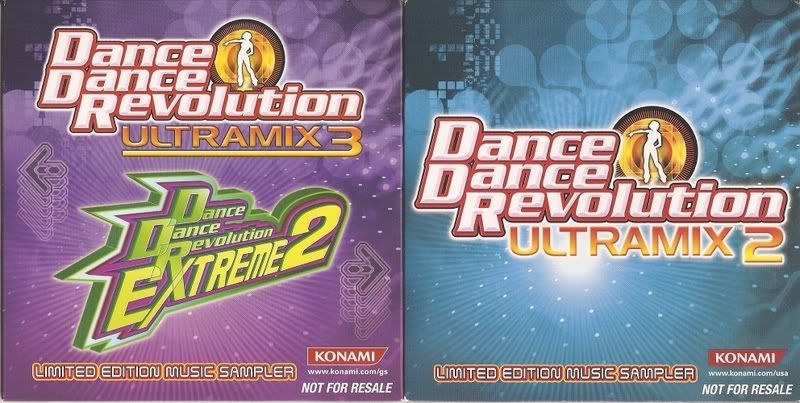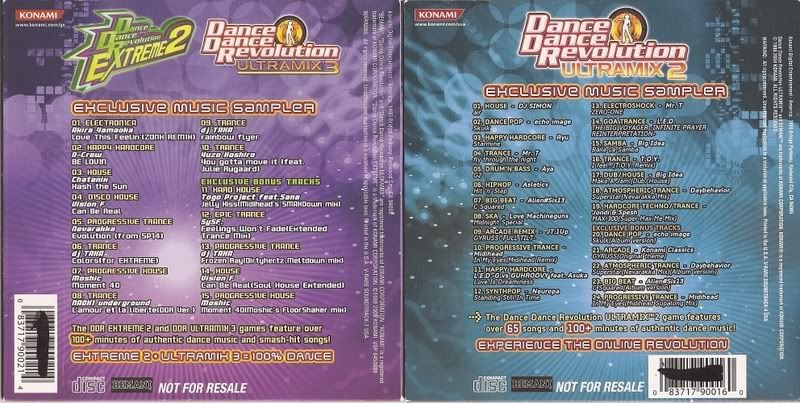 Two dollars each....these are official Konami US release sample discs. Stupid store where i bought them *yes the store woudln't let them be free like they were supposeed to* marked off the barcode as you can see ><

So, paypal. That's it. :D

Thank you for even

looking

at this stuff :D



That's it :D