[ .] Ships worldwide - shipping prices will differ
[ .] Feel free to enquire about shipping prices at anytime
[ .] Most prices are negotiable, feel free to haggle
[ .] Prices are in AUD. Currency Converter
[ .] Item prices don't include shipping
[ .] Accepting PayPal, concealed cash or Direct Bank Deposit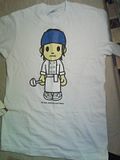 Bape Shirt $AUD12
Medium Size, white.
Brand New, only tried on before. No tags.
Bathing ape chef. "Ape shall never kill busy works"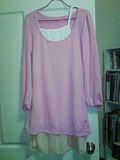 Pink Dress $AUD30
More views: Worn by model
Brand New, Tag still attached.
Two layered dress, not attached. Top half of under layer is white and bottom half is beige.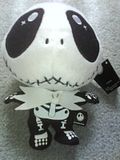 Jack $AUD12
Jack from the Nightmare before Christmas.
New. Excellent condition. Tag still attached.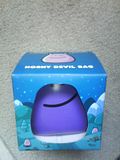 Horny Devil Bag $AUD23
More views: Out of box
Brand New, with box. Speaking 'bag'. Squeeze it and it says different things. Speaks language that some people may find offensive.
made of vinyl outer and foam inner.
Approx. 11cm in height.




Mashi Maro Notepad $AUD5
Brand New. Still in original packaging Mashi Maro notepad. Never taken out if the plastic cover.
Dimensions: 10.5cm by 7cm




Shiro Petto Notepad $AUD4
Brand New. Still in original plastic cover. Cute little Shiro Petto Memopad.
Dimensions: 10cm by 6.8cm




Lovely White Notepad $AUD4
New, didn't come with plastic covering. 100 pages, 100 different designs.




Cat Notepad $AUD3
New, didn't come with plastic covering. Writing on the front says: "The future is based on choice not chance."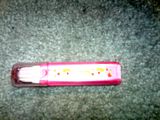 Pink Eraser Pen $AUD7
More views: Close up
Brand New, never used. Interchangeable erasers. Hamu Hamu Hamuchu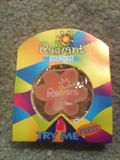 Radiant Eraser $AUD3
Flower shaped light up eraser. Brand New, never used. The light however doesn't work anymore. It came broken.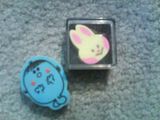 $AUD3 each. Brand New. The bunny one comes with the little box.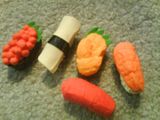 Sushi Erasers $AUD4 each. $AUD2 for the prawn
More views: Prawn
Brand New!! Never used, except the prawn. The tail has been used.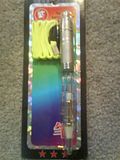 Light-Up Pen $AUD8
Brand New. Never taken out of the packaging. Not sure if the light still works or not.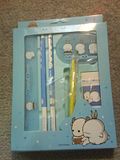 Mashi Maro Set $AUD16
Brand New. Never used. The plastic on the front is broken - it was bought like that because the highlighter doesn't fit into the box properly.
Contains: 2 pencils, 1 highlighter, 1 ruler, 1 eraser, 1 stickytape.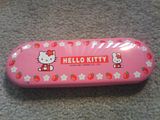 Hello Kitty Hardcase $AUD9
More views: Open
Brand New! In excellent condition. Slight smudge on the bottom left of it.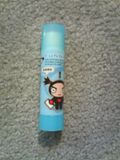 Garu Glue Stick $AUD4
Garu from Pucca and Garu: Funny Love. Brand New, never used before.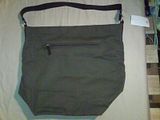 H&M Bag $AUD15
More views: Back | Inside
Brand New, tag still attached. Brown/Kaki-ish colour.




Crazy Room Bag $AUD15
More views: Inside
Brand New, no tags. Comes with a longer shoulder strap. Black. Thick sturdy material.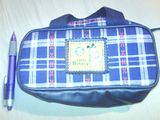 Little Bobdog Bag $AUD7
More views: Image Close-up
Not new, but very well kept. Pen is beside it to compare size.




Shoulder Bag $AUD13
More views: Inside
Black. Brand new, no tags. Lady is a metallic silver. Sturdy material.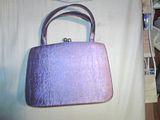 Evening bag $AUD8
More views: Inside
Used once, very briefly. Purple. Didn't come with the chain strap when we bought it.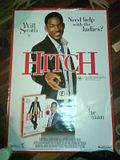 Hitch Poster $AUD9
Hitch, the movie DVD Promo poster.
Condition: Good, but not great.
Dimensions: cm by cm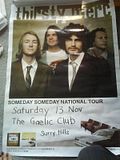 Thirsty Merc Poster $AUD7
Condition is good, but not that great. Sorry, my handwriting is terrible. This was the promo poster for their tour and first album.
Dimension: cm by cm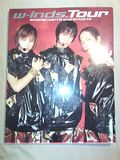 W-inds Tour $AUD40
More views: with poster
Brand New!! Excellent condition. Comes with a large poster (dimensions: cm by cm).
Feel free to request for more photos of this.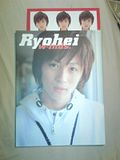 Ryohei Photobook $AUD40
Brand New!! Excellent condition. Comes with a page of Ryohei Stickers.
Feel Free to request more photos of this.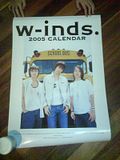 2005 W-inds Calendar $AUD16
Perfect condition. Has been rolled up, not taken out.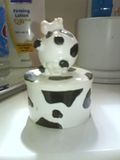 Cow container $AUD9
Good condition. Small container.