Hi! I have got lots of stuff for sale And making a selling post this way so sorry if its not fancy or if it not allowed please take it down.(Advice is welcome too.)


Link to my Journal -

yukifairy.livejournal.com/2531.html





MAGAZINES
-Jrock-

Cure, Shoxx


-Newtype-Unopened Older issues
DVDS-Coming soon!!!


CDS

-jrock/pop,cpop,kpop


Manga

-

$2.50

And cheaper the more you buy!!!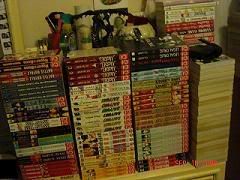 Posters & Centerfolds(Anime Chicks & one dude)

-All under $2.25


Free stuff *Too & Specials Look For The

(******

Orange***)

!!

Link to my Journal -

yukifairy.livejournal.com/2531.html



-Please read all the beginning stuff its important!
-Please Leave a comment if Interested Or email me At

Weisskreuzlover1@yahoo.com




It would be very nice of others to leave me feedback after Selling to me or buying from me here:

yukifairy.livejournal.com/1802.html