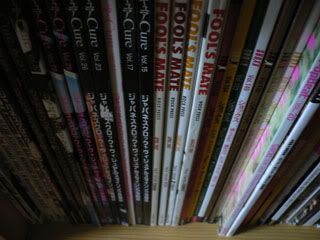 I still have loads of j-rock magazines that I'm trying to sell off! Magazines include Cure, SHOXX, Fool's Mate, Hev'n and Neo! Plus new issues that I've just added :)

I sell items (including CDs and DVDs) from bands such as 12012, Charlotte, DespairsRay, Dir en Grey, Dengeki Tomato, Jinkaku Radio, Kagrra, Kannivalism, L'Arc~en~Ciel, Panic Channel, Phantasmagoria, Plastic Tree, Miyavi, Pierrot, Metronome, MUCC, Sid, Shulla and more!
I'm also selling clothes by Sex Pot Revenge and MAM, as well as non-brand items, and a Ba-Tsu tie designed by Kyo!

Prices are negotiable!


I'm also auctioning Dir en Grey's Ware photobook (starting bid US$55) and Undercode Productions' Live tour postcard books (starting bid US$30)! Auctions end this Sunday!




itsazombie