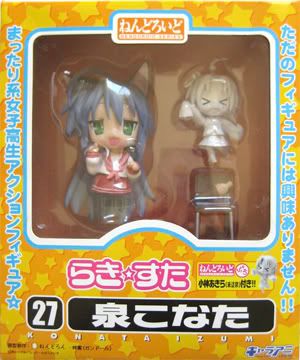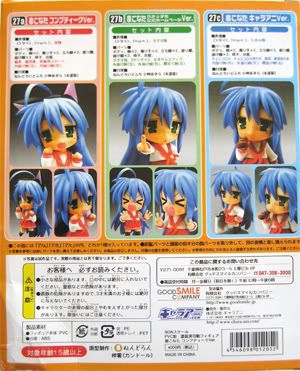 SELLING: "Defective"Konata Izumi Nendoroid
DESCRIPTION:
Brand new and never opened.
Although one of the arms seems to have fallen out of place.
Additionally, bottom left hand corner of the box as a little dent.





I bought this at a local anime store that claimed these were "defective" products.
Everything is included except the cornet and that's why they were selling it below market value (or so the story goes).
But, more than likely, I believe this is a bootleg.
Even so, the quality is almost the same as the original.
And, if anything, it would be perfect to customize.

PRICE: $20
Shipping in the US will probably be around $5-$6.
I will also ship internationally.


ADDITIONAL IMAGES ("DEFECTIVE" VS. ORIGINAL CHARA ANI VER) :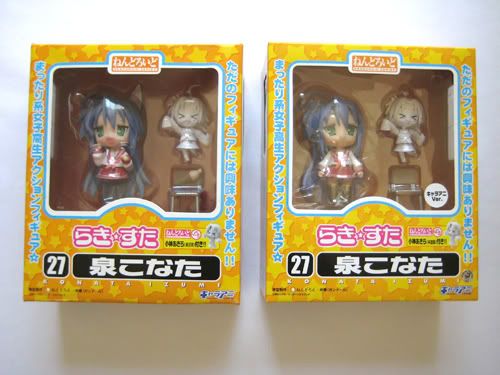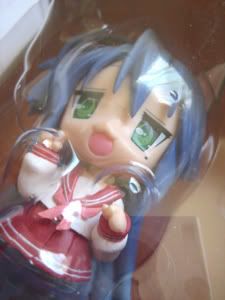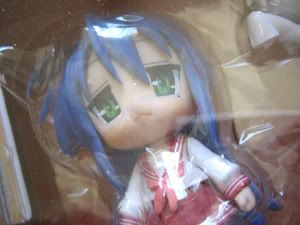 So, as can be seen, there's really no loss in terms of quality.
If these were taken out of box and mixed together, I'm pretty sure nobody could distinguish between the two or at least would have a very, very hard time in doing so.




Although this is mostly a feeler, I am also taking offers for the authentic Chara Ani versions of Izumi Konata and Hiiragi Kagami.
Sort of in a financial pickle, and it would really pain me if I had to let these go, but . . . I may consider selling these two in the future. ;_;
I think market value for these are $100+ each.
Let me know what your potentional offers are.


ADDITIONAL IMAGES:
As can be seen, official Chara Ani Ver. sticker and silver Kadokawa Production sticker on the bottom right corner.
These are both mint in box.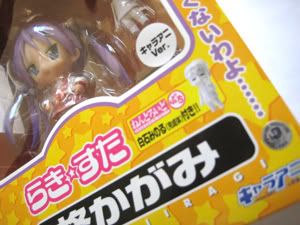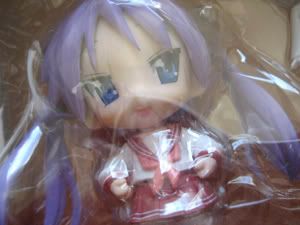 SHIPPING:
I ship from the US.
Shipping depends on weight and distance.
I will use the cheapest form of shipping when possible.
Please let me know if you prefer a box over envelope.


I will ship internationally.
And I do combine shipping if you plan on ordering anything else from my shop at miserycandy.
Remember shipping depends on the weight though.
I'm sorry, but please wait for your shipping quote before you send your payment.
Thank you! :D

This is because I need to know a couple of things before I give you your shipping total. xp
01) Location (Just need to know your country.)
02) Do you want delivery confirmation/tracking?
This is an additional $0.75.
Insurance is $1.65.

For information regarding damaged packages or lost mail, please read the post
here
.



FORMS OF PAYMENT:
Prices are listed in US Dollars.
Acceptable forms of payment include non-credit card Paypal, credit-card Paypal (including fee, please look below), e-checks, money order, checks, and concealed cash at your own risk. Please be aware that with e-checks, I will only ship out items after payment is cleared.
Payments can be sent to brenji [at] gmail [dot] com for non-cc Paypal only.

Please note, credit card Paypal is also acceptable, but there will be a 2.9% + $0.35 charge, unfortunately. :C
Because I want to keep fees as low as possible, I set up a different account for CC-Paypal.
If you would like to pay through credit card, please send payment to miserycandy [at] gmail [dot] com.

Please also note that, cross border fees are 3.9% + $0.35 for any Paypal payments overseas.
This is because Paypal needs to convert euros, pounds, etc. into dollars.
If you are an overseas buyer, and you already have funds within or sent Paypal from your bank, I believe this fee can be avoided.
Please let me know if that is the case.

If you are paying via e-check, I will not ship out items until payment has cleared.



Let me know what form of payment you will be using so I can give you your grand total. Thank you!