-I accept Paypal. If you're really interested and absolutely cannot pay by paypal, please talk to me beforehand.
-I am located in the US; am willing to ship internationally but please be aware of the extra fees.
-Prices listed do not inclide shipping or the paypal fee.
-All doujins are in great or excellent condition.
-Feel free to make offers
-Holds last one week.
-Pictures of inside will be provided upon request.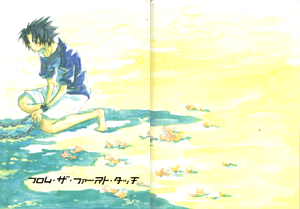 Title: From the First Touch
Circle/Artist: Lamlic
Size/Pages: B5/38
Genre: Romance/Gen
Published: 8/2/2001
Pairing: Sas

[SOLD,

SHIPPED OUT 10/22]
*comes with surprise freebie doujin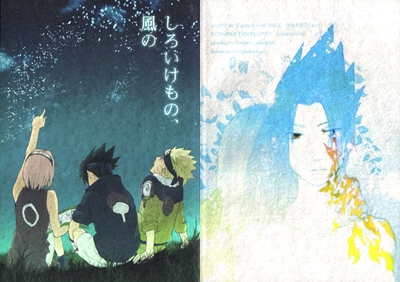 Title: Shiroi Kemono Kaze No
Circle/Artist: Konjou Kumiai/Yoko Fujitani
Size/Pages: A5/68
Genre: Gen/Gag
Published: 8/18/07
Pairing: Team Seven
Price: $28 [SOLD, SHIPPED OUT 10/22]
Note: Team seven team seven team seven team seven team seven team seven (+ Sai!). There's so much team seven love in this. This is one of my personal favs. And since the circle is Konjou Kumiai, you know the artwork will be gorgeous as always. ♥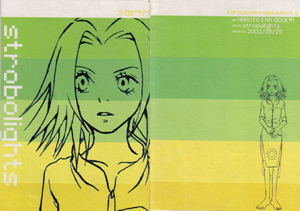 Title: Strobolights
Circle/Artist: Tarauzamurai/Tarau
Size/Pages: B5/42
Genre: Gen
Published: 8/25/2002
Pairing: Team seven, sakura-centric, light kakasaku
Price: $12



Title: Eikyo
Circle/Artist: L<--> R/Leo Hayajawa & Ray Asagiri
Size/Pages: B5/36
Genre: Romance
Published: 10/26/03
Pairing: Kakashi/Sakura
Price: $12 [SOLD, SHIPPED OUT 10/22]
Note: The art is absolutely beautiful.
*comes with surprise freebie doujin


Leave a comment with your email if interested. =]