Selling Honey and Clover II Cell Phone Straps / Cell Phone Cleaner
Prices are listed in USD.
Will ship internationally.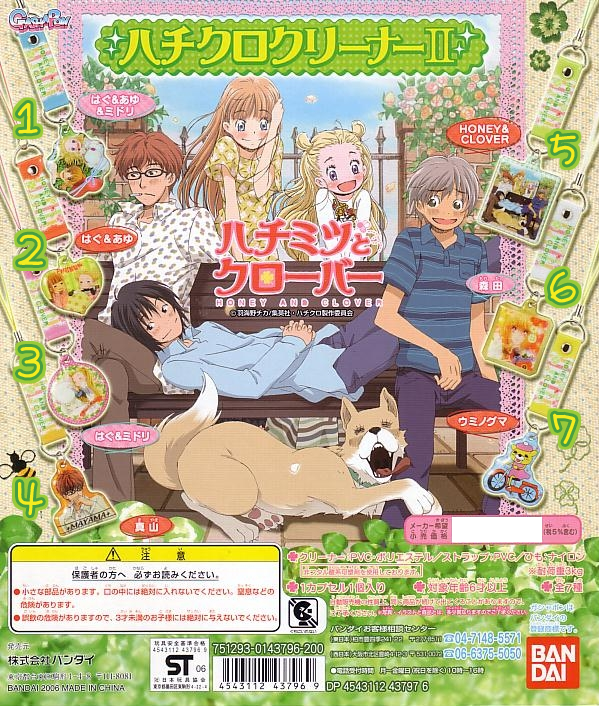 AVAILABLE:
1. Hagu & Ayu & Midori
2. Hagu & Ayu3. Hagu & Midori
4. Mayama
5. Honey & Clover
6. Morita
7. Umino Guma
DESCRIPTION:

Brand New in packaging
Comes with gashapon paper.
These cell phone straps are cell phone cleaners used to wipe fingerprints and residue off your cell phone. :]
PRICE:

$8 each
PROOF OF OWNERSHIP: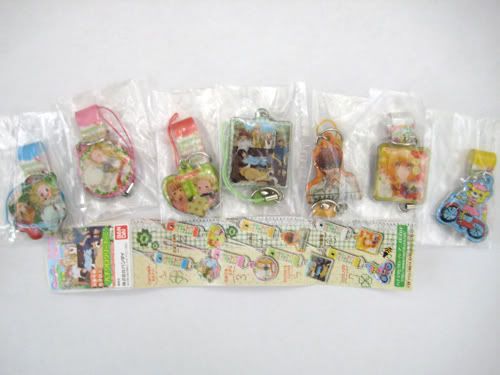 SHIPPING METHOD: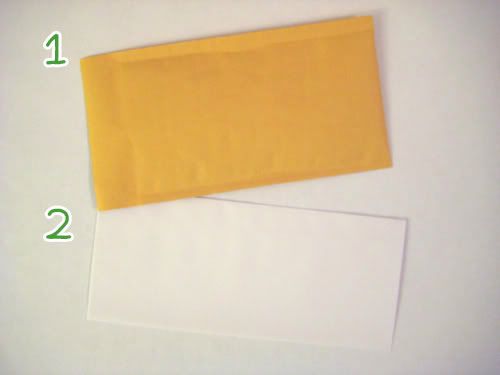 I usually ship items in bubble envelop, but these are small and flat enough to fit in regular paper envelopes.
So, to keep costs low, I'll give you guys the option.
Bubble envelope will definitely give more protection.
Listed shipping price below are within the US only.
If you would like an international shipping quote, please leave your country in a post below.
Shipping includes both quote and packaging. Thank you!
Also offer insurance and tracking.
1. Bubble envelope: $1.50
2. Regular envelope: $0.50
SHIPPING:
Shipping depends on weight and distance.
I will use the cheapest form of shipping when possible.
I will ship internationally.
And I do combine shipping if you plan on ordering anything else from my shop at
miserycandy

.

Remember shipping depends on the weight though.

I'm sorry, but please wait for your shipping quote before you send your payment.

Thank you! :D


This is because I need to know a couple of things before I give you your shipping total. xp
01) Location (Just need to know your country.)
02) Do you want delivery confirmation/tracking?
This is an additional $0.75.
Insurance is $1.65.
If not, I will send it through First-Class Mail package, cheapest form of shipping.


FORMS OF PAYMENT:
Prices are listed in US Dollars.
Acceptable forms of payment include non-credit card Paypal, credit-card Paypal (including fee, please look below), e-checks, money order, checks, and concealed cash at your own risk. Please be aware that with e-checks, I will only ship out items after payment is cleared.
Payments can be sent to brenji [at] gmail [dot] com for non-cc Paypal only.


Please note, credit card Paypal is also acceptable, but there will be a 2.9% + $0.35 charge, unfortunately. :C
Because I want to keep fees as low as possible, I set up a different account for CC-Paypal.
If you would like to pay through credit card, please sent payment to miserycandy [at] gmail [dot] com.


Please also not that, cross border fees are 3.9% + $0.35 for any Paypal payments overseas.
This is because Paypal needs to convert euros, pounds, etc. into dollars.
If you are an overseas buyer, and you already have funds within or sent Paypal from your bank, I believe this fee can be avoided.
Please let me know if that is the case.


Let me know what form of payment you will be using so I can give you your grand total. Thank you!

FEEDBACK:

My journal has some

feedback

.

Please let me know if you would like my ebay feedback as well.


Thank you for taking the time to go through this post!!
Much appreciated!!




</div>