I have recently gotten married and moved and I need to get rid of all this STUFF I've collected over the years. So I'm selling everything. If you see things you like, I will take offers just in hopes of getting rid of it.

Details:
I live in Fort Worth, TX
I package in bubble envelopes and ship the cheapest way through usps unless otherwise asked.
I accept only paypal and do not mail until the transaction has cleared (so eChecks must wait a while. sorry guys!)
PLEASE DO NOT PM ME. MAKE ALL REQUESTS IN THIS THREAD. I'm a bit of a scatterbrain and need to know who posted before who to be fair. >__<;;



Starting off we have my pin collection:
I'm only selling the ones that are in excellent condition and have backs.
I'd like $2.50 a piece, or 5 for $10.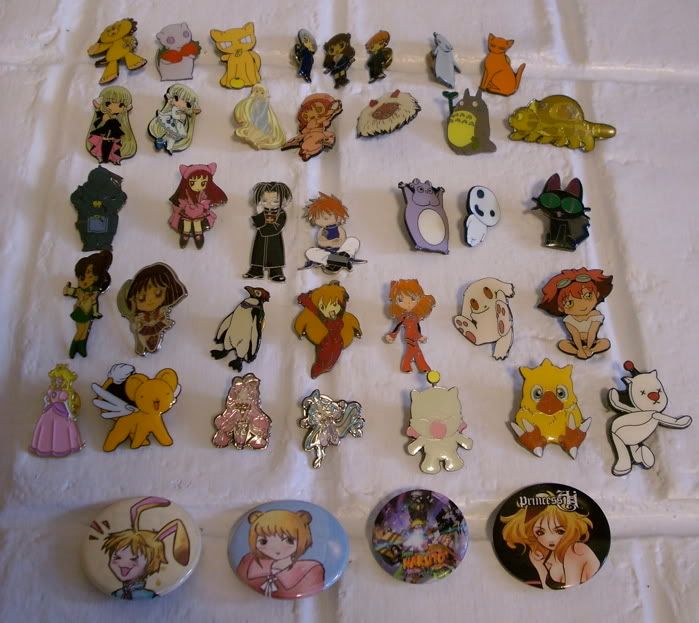 In row order:
- Kon - Yuki Strawberries - Kyo Oranges - Yuki Person - Tohru Person - Kyo Person - Yuki Rat - Kyo Cat -
- Freya Twin - Chii Twin - Chii PJs - Sumomo Tambourine - Mononoke Mask - Totoro - Catbus -
- Al - Mew Zakuro - Juvi Orion Black - Juvi Orion Other - Bou - Kodama - Trigun Cat -
- Sailor Jupiter - Sailor Saturn - Penpen - Asuka Yay - Asuka Walk - Wiz - Ed -
- Princess Peach - Card Captor Thing - DearS Pink - DearS Blue - Pink Moogle - Chocobo - Red Moogle -
- Fan Made Momiji - Fan Made Kisa - Naruto Button ($1, it's pressed inward) - Princess Ai -

Next are a couple more pins and some keychains and things: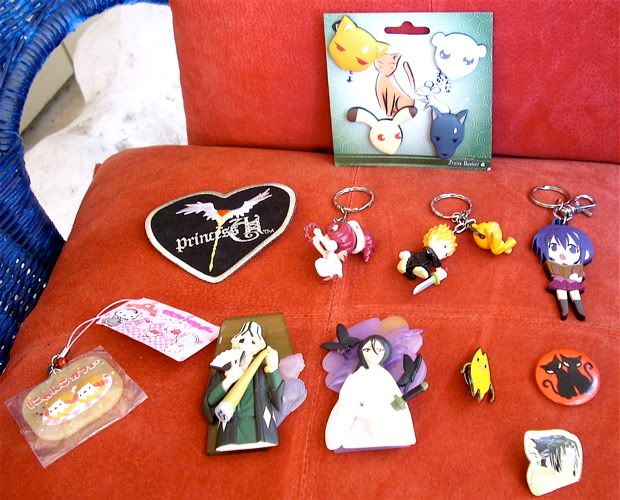 - Fruits Basket Rubber Pin Set - $7
- Princess Ai Patch - $1
- Sumomo Keychain - $1 (it's a little beat up)
- Ichigo and Kon Keychain - $2 (also beat up)
- Library-chan - $2.50
- Nyanko Cellphone Strap - $5 (mint condition)
- Sandlehat Pin - $2.50
- Rukia Pin - $2.50
- Azu Manga Diaoh "Father" - $3
- Emily The Strange Cats - $3
- Sasuke Pin - $2.50

Bags: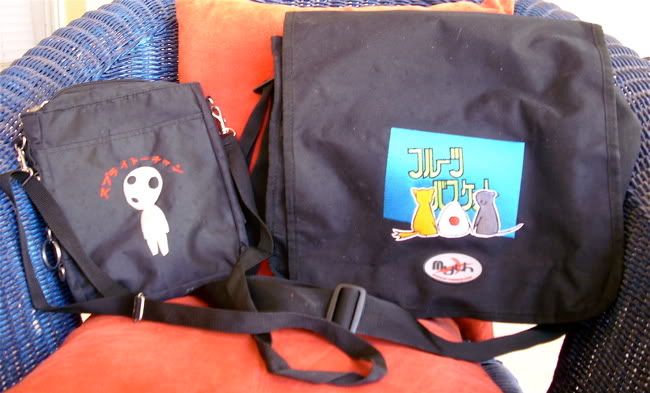 - Large Mythwear Fruits Basket Bag - my entire pin collection used to be pierced into the front of this. But other than that, it's in fantastic condition. Because ... well ... I almost never used it. Just displayed my pins on it. Asking $18, willing to negotiate.
- Small Mythwear Kodama Bag - I will be honest with you, this thing has had a long life. It's beat up, it's been wet so many times it's a little waxy, but it's so freaking cute!! I'd like $8 for it.

Plushies!
Everyone loves these, right?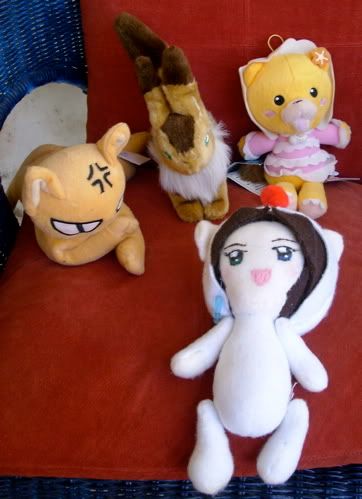 - Kyo Plushie - Original with tags, he's a little angry right now because he needs a new home. Wouldn't you want to adopt him? Only $9
- Foxsquirrel Plushie -
- Yuna Dressed As a Moogle - this thing is horribly adorable. It's handmade by someone at a con. It needed a little repair job which I did. It's been a little loved on by me. But it's so freaking cute!! $5 is all you need to take it home, unless you can give me a really good reason it should be cheaper (like, you know, you promise me cookies or something)
- Kon Plush - okay, so you really may not want this. I walked around a con for a good while in a Rukia costume with this plush stuffed down my shirt. ::sweatdrop:: But now, it is of no use to me. $8

And now onto all of my figures. I will warn you now - they are VERY dusty. And I figured better for you to clean them than me, so I don't break them. Many of them are the type that you get in little packages in pieces and put back together yourself. So in shipping, they may come apart, but I promise they all fit together again. It's magic I tell you!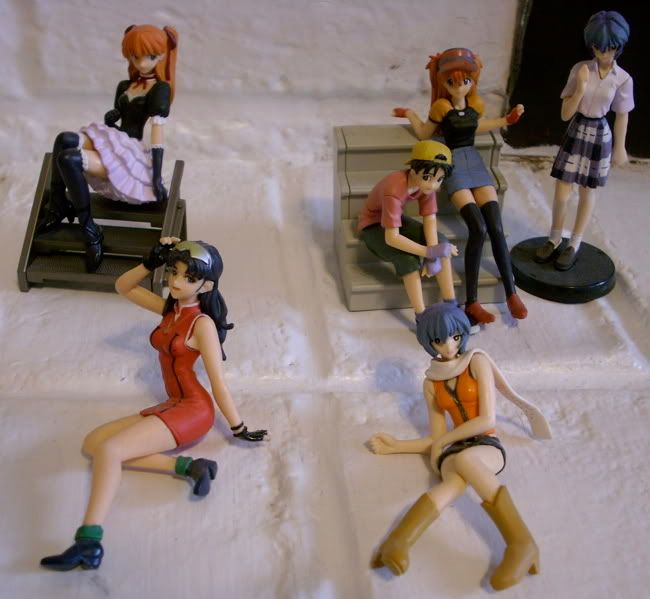 ONLY ONE LEFT IS:
- Sexy Misato in Red - She can sit and watch you watching her on the TV! $4




Evangelion Chibis! $3.50 each
ONLY ONES LEFT ARE: - Rei Plugsuit - Class Rep - Rei Uniform -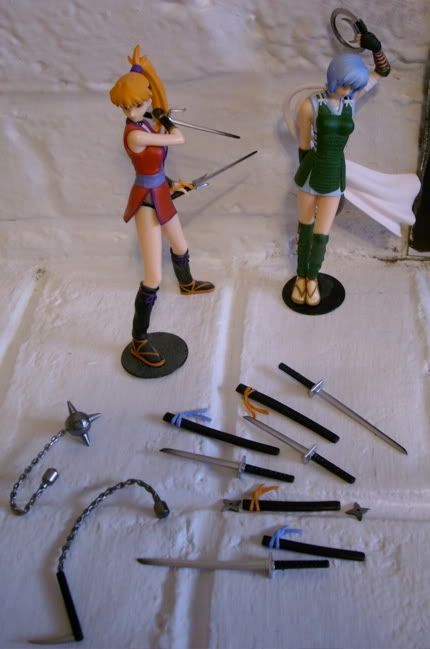 Asuka and Rei as Ninjas - all weapons included.
I paid $25 EACH for these. I'd like $35 for the set. I don't have their boxes, but I do have *all* the weapons. They are amazingly detailed, and nothing is broken.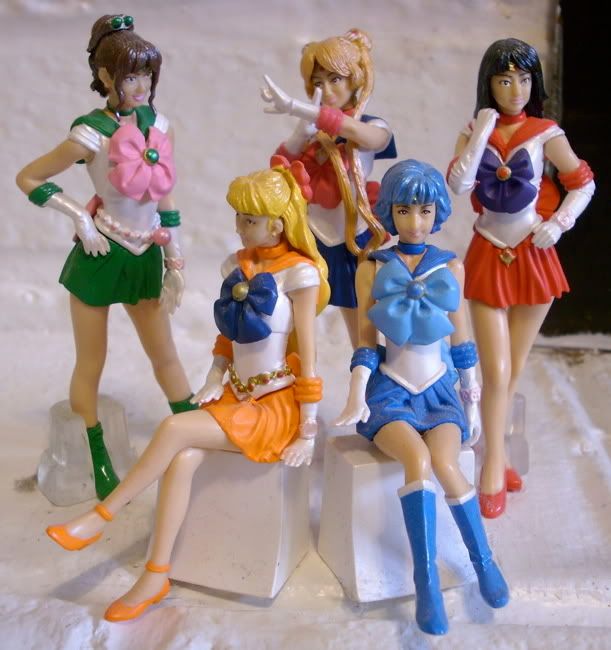 Live Action Sailor Scout Figures
Another Birthday gift, no idea how much they were, would like $13 for them.



- Simca Chibi - $5
- Sailor Saturn Chibi -
- Sailor Jupiter Chibi - $5
- San-X Bobble Head - $2.50
- Nya Nya Nyanko - Seal - Kogapan -

AND FINALLY
A whole bunch of cosplay stuff.
BUY EVERYTHING I HAVE LEFT OF THIS COSPLAY STUFF FOR $85
OR YOUR BEST OFFER

The story is, my sisters and I were gunna cosply the Sailor Scouts from the Sailor Moon Live Action. I agreed to buy all the accessories if they bought the fabric, leotards, tights, gloves, ect. Two years later? I give up on waiting for them and decide to sell what I bought. Here it is.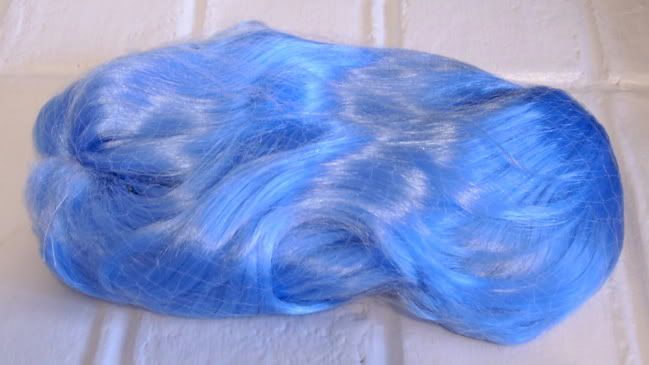 Sailor Mercury Wig. Never taken out of the hair net or tried on. We bought the one off ebay that looked exactly like her hair in the live action. Fits adult women. $5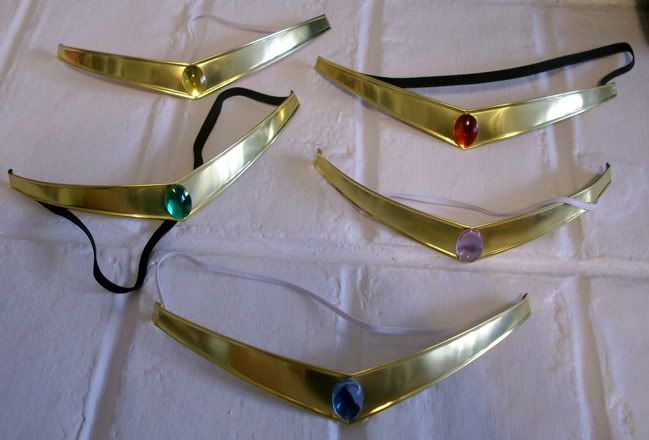 Obviously, they are tiaras. Live action ones. So Mercury is a light blue and Moon is a light pink.
$6 each or $25 for them all.
- Pink one is SOLD
- Red one is SOLD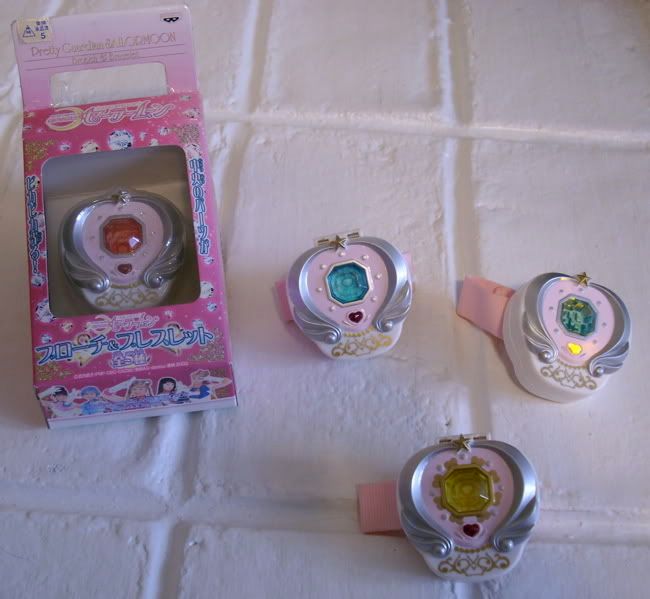 The official transformation wristbands. Oh yeah! Only one in the box, and the box is faded. They do light up although it's very hard to take a picture of that. I'd like $6 each or $20 for all four.
- Venus' Band is SOLD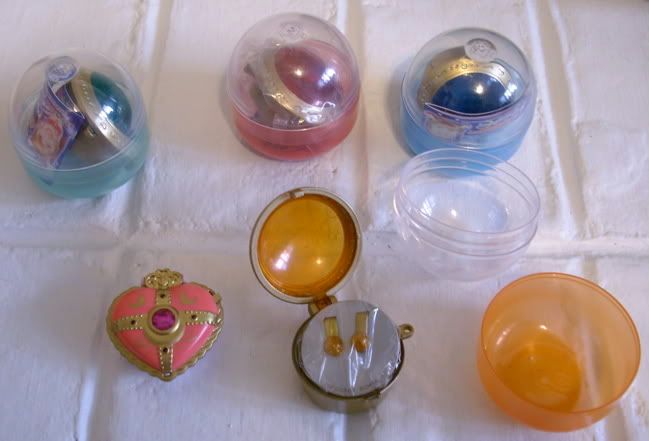 Sailor Moon's chest pendant thing. Also lights up.
And the official little chest bubble things for the sailor scouts - with plastic clip-on earrings inside! Would like $6 each or $20 for all four.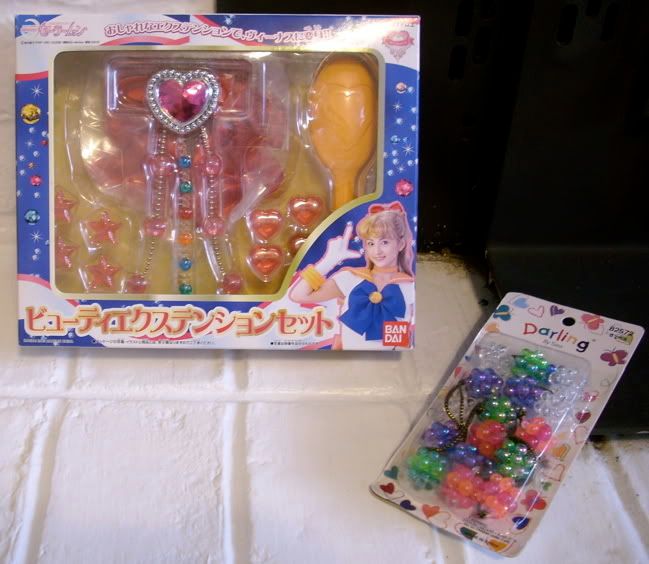 Finding Sailor Venus' official hairbow was my pride and joy. I paid $38+shipping for this thing! I'd like at least $25 for it.
Also - little hair bobbles we were gunna use for Sailor Jupiter - $1.00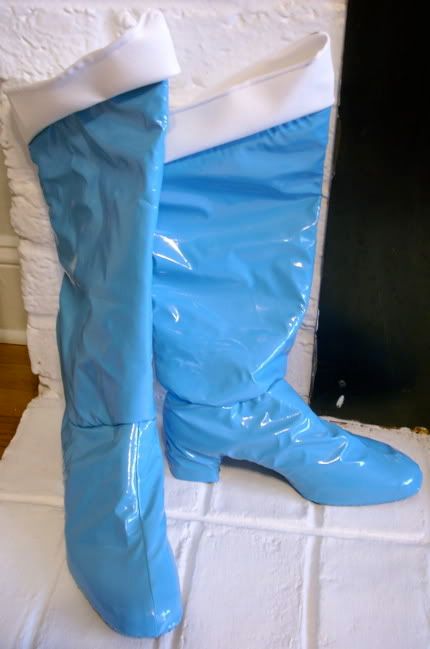 We had these made for us. They are Sailor Mercury's boots. Women's size 7. Would like maybe $7 for them.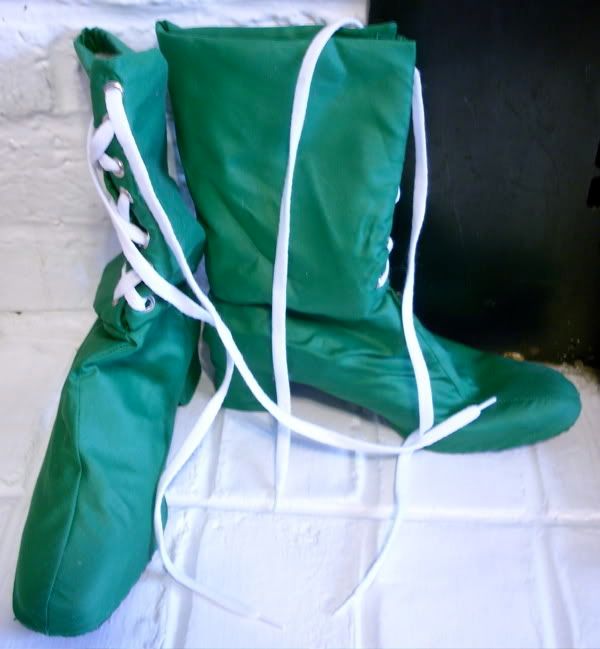 Sailor Jupiter's boots (also made for us). Women's size 8 and 1/2. Would like $7