[Pre-Orders] NEWS - 2008-2009 Winter Party Diamond Concert Goods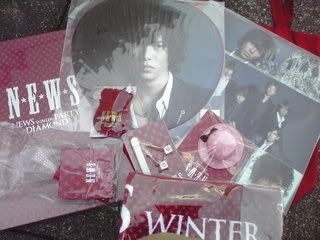 konkon_sales is taking pre-orders for the new NEWS Winter Party Diamond Concert Goods. Orders will be accepted until December 20th. Most forms of payment are accepted (Paypal, Western Union, international money order, cash at your own risk), but all payments must be received no later then December 20th.

Items will be shipped out from the US & Japan in middle to late January. Prices do not include shipping. Shipping prices will be invoiced after the goods have been received from Japan. All prices are in USD.

Pricing

Pamphlets: $35 per piece
Photosets: $12 per set (sold as sets only) (7 versions available) (There may be two versions, waiting on confirmation of this)
Clearfiles: $10 per clearfile (7 versions available)
Posters: $16 per poster (7 versions available)
Jumbo Uchiwas: $15 (6 versions available)
Penlight: $20
Tote Bag: $18
"Saikoro" Strap: $20
Muffler Towel: $20
Hat Pin: $14
T-shirts: $40
Rings: $25 (sizes: S/M/L)


We also offer discounts if you purchase 8 or more items. If you purchase 8 items, receive a 5% discount on all items. If 12 or more items are purchased, receive a 10% discount. We also offer Super Saver Packages. These packages are groups of items at a discounted price. So, if you're looking just to buy a pamphlet, uchiwa and poster, then you can purchase one of our Super Saver Packages and receive $6 off the regular price if you were to buy them separately. More information can be found on our LJ. 5-10% discounts are not applicable with the Super Saver Packages.

You can find more information on our LJ here. If you have any questions, don't hesitate to let us know!

x-posted a bit.