MANGA FOR SALE!!!

I want to get rid of these! I want to sell them them ASAP! and ask if you want pics. My feedback is at
mystic_anime

ALL IN NEW CONDITION!

ALL PRICES INCLUDE SHIPPING IN THE USA !_!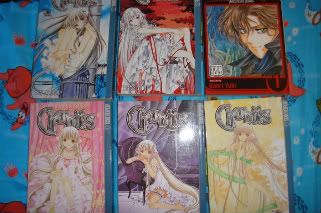 alichino vol.1 $5
Cain Saga vol. 1 $5
confidential confessions vol.1-3 $5 each
Wedding peach vol.1 SOLD
guardian angel getten vol.1 $5
Peach Girl Sae's Story vol.1 SOLD


Mahoromatic

Vol. 1
mystic_anime $4


Cardcaptor Sakura: Master of the Clow

, Book 1
mystic_anime $5

Land of the blindfolded 1-5 ONLY 2 and 4 left! $5 each

Kare Kano Vol.1-10 and vol.17 <-- sell individual $8 each or set $55 for all 11 volumes!

Video Girl Ren vol.1 $5

YUGIOH VOL.1-2 $4 each



Entire Series!

Chobits Vol.1-2 and 6-8 Looking for $5shipped in the USA each i'll lower the price if you order more than one.

UTENA all volumes including movie manga. $40 for all of them

VIDEO GIRL AI Volume 1 - 12 complete series in great condition! $65



Free!! When you pay for shipping =)

Video Game Magazines

Game Informer
Video Game Developers
Gamepro
Nintendo Power.

If not one takes the video game magazine I'll have to recycle them =( they are all from this year.