Good afternoon everyone! Recently I have acquired several Sailor Moon Musical VHS. Two of the tapes I received are already in my possession. This means that I have TWO EXTRA VHS! This is a wonderful opportunity for any Sailor Moon or Sera Myu fan to enhance his/her collection! I will be auctioning these tapes here, on my journal, and no bids should be sent to my email. (If you are reading this through a community, please place any bids here.) The highest bidder at the end of the auction will, obviously, be the winner! You do not have to bid on both tapes. Each is being sold/auctioned individually. Shipping is not included in the bid price, and will be calculated after winners have been decided (seller located in the USA, will ship internationally, bidder pays all shipping fees). Good luck, minna-san!

I accept checks and money orders (shipments will not be sent until payment is received/cleared). Unfortunately I do not have access to paypal. If you can only pay through paypal and still wish to bid, please email me at UntraditionalFairyGodmother [at] hotmail [dot] com. I will be glad to discuss things with you and see if we can work something out! Don't let that stop you from bidding.

The two Musical tapes that I have are listed below the cut.




Sailor Moon Stars, First Stage, Anza Musical. VHS in original box. Preowned and opened, but appears to be in wonderful condition. For a (very large) scan of the front and back cover, please click here. Bidding starts at $50 US.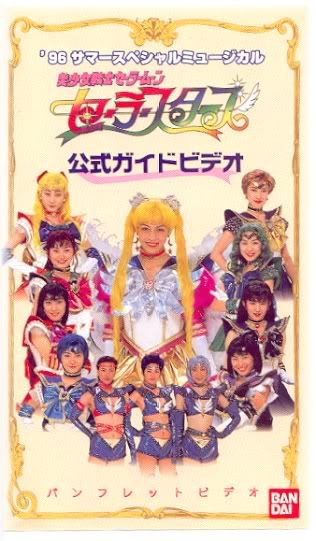 Sailor Moon Stars Fan Guide, First Stage, Anza Musical. Note - this is not a musical, but a "making of" styled fan guide for the Stars musical. It contains lots of behind the scenes cuts of the various actors/actresses, and even shows rehersal clips. VHS in original box. Preowned and opened, but appears to be in wonderful condition. Bidding starts at $50 US.

If a bidder wants any further information on the musicals, please email me at UntraditionalFairyGodmother [at] hotmail [dot] com and I will be more than happy to answer any questions. Please note that the images here were taken from Starlight Pops and are not scans of the VHS in my possession. For more information on the Sailor Moon Musicals, including cast and plot, please go to La Fatalite.

[Cross Posted to
anime,
anime4sale,
anime_drugstore,
animecelcaption,
animemangatrade,
garagesalejapan,
sailormoonfans,
sera_myu,
seramyu_cosplay,
serasell, and
shopanime]

[PS: If you know of any other selling communities that I have not listed, please let me know!]